Supporting agencies and professionals who work with children and young people
Join CoramBAAF
Become a CoramBAAF member and join the largest community of agencies and individuals working to secure the best outcomes for children separated from their birth parents. And get access to the exclusive Members' Area of the site.
Find out more
Members' area
Access the latest information, advice and practical support. Log in to the Members' Area to request tailored social work, health and legal advice from our consultants, read our briefings, download a selection of free books, guides, Advice and Practice Notes, read the Adoption & Fostering journal, and much more.
Log in to Members' Area


New book available now: Supporting the mental health of looked after and adopted children

Our brand new guide translates theoretical concepts and research about children's mental health into straightforward language and practical advice, to help support the mental health of looked after and adopted children.

See more



Sky News reports: 'Thousands affected by 'hidden epidemic' of foetal alcohol spectrum disorder'

John Simmonds, CoramBAAF Director of Policy, Research and Development, spoke to Sky News on 9th December (International FASD Awareness Day) about Foetal Alcohol Syndrome Disorder.

Find out more



Childcare Consultant Shelagh Beckett answers our questions on placing siblings

Read what Shelagh has to say prior to her presentation at the forthcoming CoramBAAF conference 'Beyond Together or Apart' and publication of her new Good Practice Guide on sibling placements.

Read more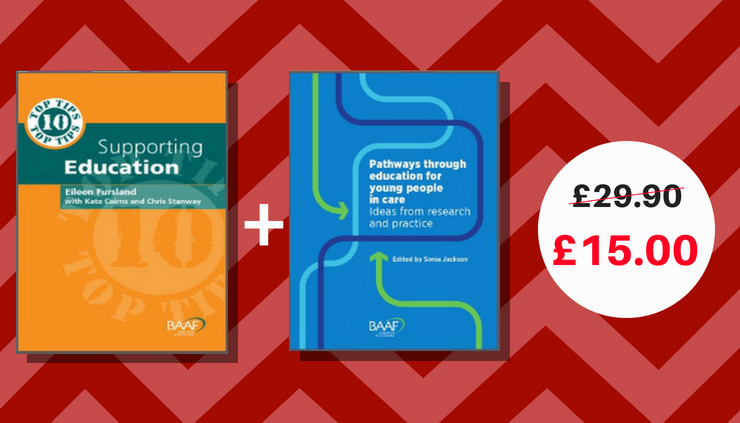 Our September deal of the month is a school and education special!
Until 30 September 2018 you can buy 'Ten top tips on supporting education' and 'Pathways through education for young people in care' together for only £15.00 - usual price £29.90!

See more
An introduction to the Secure Base Model - free workshops for CoramBAAF full member agencies
Places still available in Exeter and Leeds!
Find out more
Advertise with us
We have a number of exciting advertising opportunities both online and in print, which will help you publicise your service, organisation, or products to our many thousands of members and customers.
Advertise with us
Stay informed
Sign up to receive our regular e-newsletters and e-bulletins and keep up to date with the latest CoramBAAF news, publications, training events and conferences, job vacancies and more.
SIGN UP