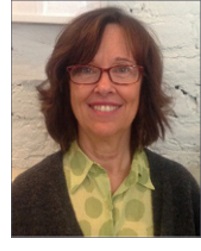 Tell us a bit about yourself. How long have you been editor, and how did you come to edit the journal?
My background is in book publishing rather than social work and I've learned a huge amount since joining BAAF to produce the journal in 1995 – 22 years ago! It's a part-time job so I've been able to pursue other work and interests including an MA in Human Rights and publishing three of my own books, the latest being an edited collection on the ethics of transnational surrogacy. I've obviously been influenced by working in the field of childcare practice and research and wrote my Masters dissertation on international adoption and the politics of rescue. Returning to study also gave me more confidence when it comes to assessing and editing articles, hence my promotion from production editor to managing editor of the journal. The commissioning editor, Roger Bullock, has also been a huge support.
What's the main readership of the journal - who reads it, and why? What makes it unique?
Adoption & Fostering is the only journal that specifically concentrates on these two areas of research and practice. That's what makes it unique. It is also the only journal to carry regular legal and health notes, written by leading experts in the field. We know from surveys that these are particularly valued by many of our readers.
The bulk of our readership is made up of CoramBAAF members (social work, medical and legal practitioners) and academics. The fact that Sage Publications, one of the biggest journal publishers in the world, have taken us on as co-publishers is testimony to the need for such a specialist title. 
How has the academic terrain around fostering and adoption changed over the years? What are the main areas of development and areas of interest?
The journal's contents tend to evolve with the political landscape as different government policies throw up new concerns. For instance, the 1980s saw a lot of interest in intercountry adoption. This was triggered in large part by media interest in the number of babies discovered in Romanian orphanages following the fall of Ceauşescu, as well as the availability of babies, especially girls, from China. Both countries have since ceased to allow overseas adoptions, and overall numbers have dropped significantly in the UK.
Other topics to emerge over the years include kinship care, same-sex adoption, birth fathers and the plight of unaccompanied asylum-seeking children. I would guess that regionalisation, transgender issues and the impact of new artificial reproductive technologies will also receive increasing attention.
In terms of disciplines – A&F is very much a multidisciplinary publication – I would say that psychology tends to dominate many of the more recent submissions. This is partly due to the huge interest in attachment, together with the popularity of writers such as Kate Cairns and Dan Hughes.
What's the balance between adoption-focused and fostering-focused articles? How do you think this reflects the work of academics, the focus of practitioners and the ultimate outcome for looked after children?
This goes in waves. The current trend seems to be towards adoption though we still receive quite a few articles on foster carer training. We are also seeing the enormous impact that Brexit and austerity are having on universities, with far less funding available for research. These days, large-scale evidence-based studies are becoming more and more rare, at least in the UK, with a result that too many articles are based on very small samples. While they may be valid this to some extent limits their usefulness. 
There have been a growing number of international articles in recent years. Why do you think this is, and what can UK practitioners, academics and so on learn from the international perspective?
This has accelerated with the move to SAGE, which has boosted our international distribution, particularly to universities across the world. Clearly, the internet has also raised the journal's international profile. Looking at ways of improving the care of children in different countries helps us to understand the needs of families and children from cultural minorities in the UK. So an international perspective is an important way of expanding the journal's range, while retaining the specific focus. For example, the December journal contains an article on non-kinship foster care in Egypt that includes the potential pitfalls of trying uncritically to impose a western model of care on families and children from different cultures. Recently we've also received submissions from Turkey, Spain and the Ukraine.
I'd be interested to know about the forthcoming special edition of Adoption & Fostering. What's the special focus for this edition, and how did you come to decide on it?
We aim to publish a special edition every two or three years, the last one being on Foetal Alcohol Spectrum Disorders (FASD), guest edited by Dr Mary Mather who is writing a CoramBAAF good practice guide on the issue. The next will focus on the contribution of neuroscience to family placement policy and practice, guest edited by Matt Woolgar from the Institute of Psychiatry and CoramBAAF's John Simmonds. As was expressed in October 2017's health notes [Adoption & Fostering, October 2017, p290], it is increasingly clear that genetic and neurobiological factors are involved in human adaptation. Around ten authors have been tasked with explaining some of the scientific complexities related to emotional development and outcome in language that can be understood by the lay reader. They include Eamon McRory, Andrea Danese, Thomas O'Connor, Jana Kreppner and a team  from the Andrew and Virginia Rudd Centre for Adoption Research and Practice, based at Sussex University and headed by Professor Gordon Harold. 
What are your plans for the journal over the next few years: are there any special areas of interest or new and important conversation on the horizon?
The journal will always seek to keep abreast of recent developments in adoption and fostering research and practice. It is difficult to predict how this landscape will look in, say, ten years (by which time Roger and I will probably be long gone!). For instance, no one could have forecasted the sudden drop in adoptions provoked by the Re B and Re B-S judgments in 2013. You can read an article by Julie Doughty on this subject in our July 2015 edition of Adoption & Fostering.
I am particularly interested in the growing use of artificial reproductive technologies and surrogacy which could well have an impact on the number of infertile people coming forward to adopt. Current demands to introduce a possible wage structure and workers' rights into fostering are likely to influence the development of fostering as a profession. Increasing reliance by local authorities on digital communication and learning is another factor.