We were pleased to welcome more than 60 attendees from around the UK to our free annual agency members' reception on 14 September 2018 at the Coram Campus in London.
Attendees heard Emma Balmforth, Policy Adviser, Children in Care and Permanence, Department for Education (DfE) set out the government's plans following the publication of Fostering Better Outcomes. This was the first time that a DfE spokesperson had made a presentation about this policy paper at an external event.  
Sarah Johal, Head of One Adoption West Yorkshire, ensured that adoption was also in the spotlight by sharing valuable learning from her work in establishing a Regional Adoption Agency  (RAA).
The chairs and members of several CoramBAAF advisory committees and groups explained how the groups inform and influence CoramBAAF on a wide range of issues, including research, black and minority ethnic perspectives, special guardianship and social work practice.
Small group discussions generated lots of ideas, including suggestions for new publications, research and training.
The annual reception is open to all CoramBAAF agency members, and provides attendees with the latest information on national fostering and adoption policy and practice. It's also an opportunity to find out how CoramBAAF represents members and gives you the chance to tell us how we can "go the extra mile" in giving the best fostering and adoption advice and support.
Attendees heard from a range of speakers
(L-R) Sarah Johal, Head of One Adoption West Yorkshire, Paul Curran, Chair of CoramBAAF, Emma Balmforth, Policy Adviser, Department for Education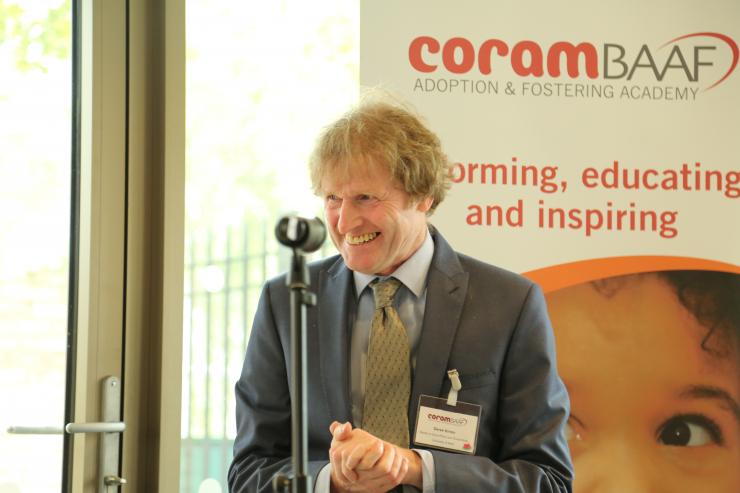 Derek Kirton, Chair of the CoramBAAF Research Group
Carole Sykes, Chair of the CoramBAAF UK Social Work Practice Advisory Committee