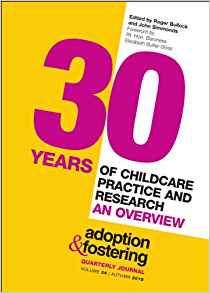 30 years of childcare practice and research: an overview
Adoption & Fostering special edition. Edited by Roger Bullock and John Simmonds (34.3, Autumn 2010)
Eighteen leading figures in the field of adoption and fostering contribute to this special edition of the acclaimed Adoption & Fostering journal. They reflect on what has been achieved in family placement in the last three decades and also consider some of the many challenges that remain. Themes discussed include: contact; the evolution of developmental psychology; the importance of recognising children's family and social relationships through to adulthood; assessment; and listening to children.
---
Adoption & Fostering is the only quarterly peer-reviewed journal dedicated to adoption and fostering issues. Over the years, it has gained an international reputation as one of the world's leading sources of knowledge for academics, practitioners and all those concerned with childcare practice and research. Edited by Roger Bullock, Adoption & Fostering is published by SAGE on behalf of the CoramBAAF Adoption & Fostering Academy.
Sorry, but this product is currently out of stock.
Reviews
With articles that inform, challenge and inspire, Adoption & Fostering plays a key part in informing best practice in children's services.
Kate Cairns, social worker, teacher, trainer and author, Attachment, Trauma and Resilience