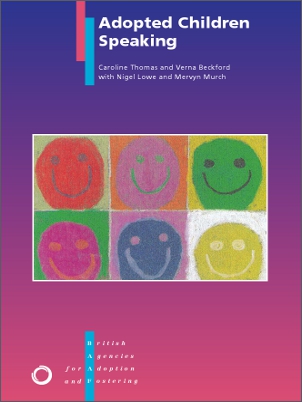 Adopted children speaking PDF ONLY
£6.25
If you really want to learn about children's wishes and feelings about adoption and their experience of it, this book is for you. Bringing together views collected as part of a wider research project, this book gives voice to the perspective of children themselves on their adoption.
Full of moving and poignant testimonies, it provides revealing insights into what children and young people themselves think and understand about adoption, the support they received, their involvement with the process and any unmet needs.
Who is this book for?
This is a valuable book for social work practitioners, those making decisions for children, and anyone thinking about adoption
What you will find in this book
This book describes the research project, Supporting Adoption, within which the children's views were collected, before going on to explore certain areas of the children's adoption experience:
Early wishes and feelings about adoption
Matching and introductions
Moving
Court
Life story work
Contact
Adoptive home and school
This book is out of print. It can be downloaded free by CoramBAAF members from the members' area of the website. The pdf file can be purchased by non-members.