Primary tabs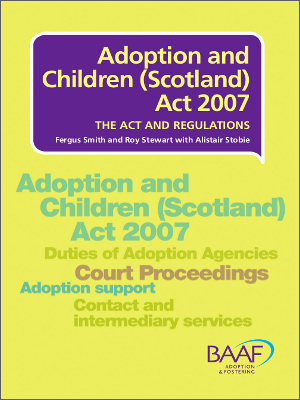 Adoption and Children (Scotland) Act 2007
£5.00
This handy guide presents the law, regulations, rules and guidance relating to adoption today, covering all stages of the process and related information – in easily digested bite-sized chunks.
This edition covers all the concepts, principles, primary legislation and regulations associated with the Adoption and Children (Scotland) Act 2007.
Small enough to carry in a handbag or briefcase, it provides instant access to necessary knowledge and data whenever needed, and is a must for every adoption worker in Scotland.
Who is this book for?
Anyone working with children and families in a social care setting in Scotland needing quick and easy access to the latest applicable legislation and regulations in adoption.
What you will find in this book
Concepts, principles and primary legislation (includes adoption orders, permanence orders and adoptions with a foreign element)
The Adoption Agencies (Scotland) Regulations 2009
The Adoption (Disclosure of Information and Medical Information about Natural Parents) (Scotland) Regulations 2009
The Adoption Support Services and Allowances (Scotland) Regulations 2009
Authors
Fergus Smith is the Director of Children Act Enterprises Ltd, an independent social work consultancy. Roy Stewart is an Associate Consultant with Children Act Enterprises. Alistair Stobie is a solicitor in Scotland, practising in the public sector with a particular emphasis on permanence planning for "looked after" children. He is also a part-time lecturer in child welfare and protection.