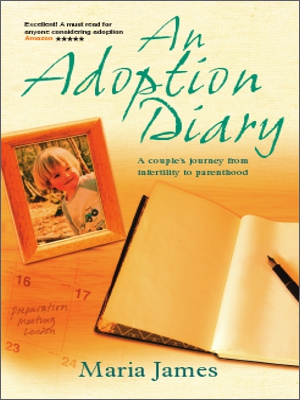 An adoption diary
This is a true story of an adoption – a story that follows Maria's and Rob's adoption of a two-year-old child. Told by Maria, this moving memoir follows the joyful highs and heartbreaking lows of the journey that led them to their new adopted son.
An adoption diary follows the family from the heartbreak of infertility to the excitement and anxiety of preparation groups and meetings with social workers, to the breathtaking moment when they meet Peter, the child who will become their son.
But not everything runs smoothly along the way – the practicalities of adopting a child who lives over 200 miles away cause strain for everyone, and other, more serious, problems are soon apparent…
Published as part of the Our Story series, this is an enthralling, inspirational account of a family's emotional journey to meeting their new son, and growing together as a family. It honestly describes the family's difficulties and joys, and gives a fascinating insight into the adoption process.
Who is this book for?
Anyone who is considering adopting or is in the process of becoming an adoptive parent.
What you will find in this book
'We arrive at the agency, both of us incredibly nervous. I am more unsteady than Rob, managing to imagine the very worst of scenarios. However, all such fears and worries are soon dispelled when a warm, informally dressed social worker greets us with a firm handshake. We immediately relax. Led to a room and plied with cups of tea, we begin our discussion, which lasts about an hour and a half.
It is good, I have to say. At no time are we made to feel that we have to be perfect in order to offer a home to a child. At no time do we feel that we have to watch what we are saying in case we say the wrong thing. Some of what the social worker tells us is positively uplifting.'
'I catch my breath as I glimpse our son standing at the foster carers' front door, a beaming smile etched upon his face, his hand waving madly.
'It is 2pm on Tuesday afternoon and we are due to take Peter to the park with his foster carer. It will be a short meeting – a couple of hours; we are supposed to act as naturally as possible, while introducing ourselves as Peter's new mummy and daddy!'
Author
Maria James is married to Rob and they live in South East England with their son and three dogs. This is her first book.
Sorry, but this product is currently out of stock.
Reviews
This is an excellent book written with complete honesty about the journey through the adoption process, I would recommend every person involved in adoption in any way to read this book, I feel it gives adopters a clear and honest insight into the Form F assessment process, how intrusive, thought-provoking, interesting and necessary the process is. An excellent book I couldn't put down, I highly recommend it.
Cath Hall, adoptive parent, foster carer and member of adoption panel for local and private agencies, www.adoption-net.co.uk
Someone told me about this book as we are at the beginning of adoption and it is really interesting to read. I loved it. Very clear on what is coming and what to expect. Definitely 5*.
Tatiane, five stars, Amazon.co.uk
I bought this book on the cusp of beginning the adoption process wanting to learn from someone who had experienced things first hand, rather than the other more text book style books I have read. What an emotional rollercoaster of a journey this couple had but so very worthwhile in the end. There were a number of times when I found myself nodding in agreement with the author and so many times when this book moved me to tears. A great book, easy to read and I managed it in a few hours.
Becky Griffiths