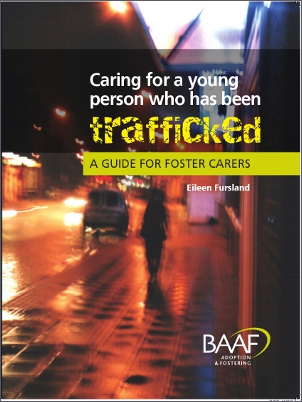 Caring for a young person who has been trafficked
£3.95
The trafficking of children and young people into the UK, often for purposes including sexual abuse, labour exploitation and criminal activity, has grown in scale in recent years, and more and more of these children are coming to the attention of local authorities. Are the foster carers being asked to look after these children sufficiently well informed about trafficking and its effects? And what do these children and young people need from their carers?
This guide, aimed at foster carers, provides information on what may have happened to trafficked children and young people, what to do if you are starting to look after a trafficked child, how a young person who has been trafficked may behave, and what they may need from their carers. The guide is illustrated with case studies and quotations from young people who have themselves been trafficked, and who talk about their stories.
Who is this book for?
This booklet is designed for foster carers who are caring for children and young people who have been, or may have been, trafficked into the UK.
What you will find in this book
This guide covers:
Trafficking within and into the UK
How children fall prey to traffickers
Why young people may be trafficked and what happens to them once they are
What to do if you are starting to look after a child who may have been trafficked
How to identify that a child may have been trafficked
How a young person may behave once placed, and the particular care they may need
Author
Eileen Fursland is a professional freelance writer. She has written a number of books and feature stories for magazines.
Reviews
The team here have had a look through both the guides and and think they provide tons of insightful and practical information for professionals – both for those already familiar with the complexities associated with human trafficking and its victims, and also for those who have not yet explored this important area. The guides cover a range of issues giving recommendations for caring for trafficking children, to the local authority's legal duty, how to keep children safe, and how to initially identify trafficking victims. Both guides are also illustrated with real case studies, and quotations from individuals who have experienced trafficking.
Stop the Traffik blog, stopthetraffik.wordpress.com