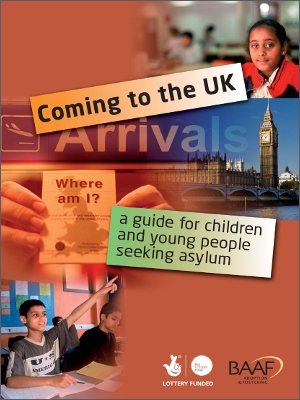 Coming to the UK
£4.50
Visiting a country that you have never visited before can be a daunting experience for many. For unaccompanied asylum-seeking and refugee children and young people, being sent alone to the UK, for reasons of safety, is not only daunting but can be bewildering, even frightening. Where will they live? Will they go to school or not? What happens if they are ill? What will they hope to find once they get here?
This informative book, almost a short introductory rough guide to the UK, contains much information that these children and young people will find helpful. Illustrated throughout with photographs, the guide provides much needed information on a number of topics, including: housing, schooling and higher education, health issues, food, staying safe, public transport, leisure time, and offers a glimpse of what UK society is like.
Whereas other guides aimed at unaccompanied asylum-seeking children and young people focus on their legal status, immigration rules and their rights, this guide deliberately concentrates on societal and lifestyle issues, providing a handy introduction to what young people can expect to find once they get here.
Coming to the UK is available in English as well as in:
Reviews
This booklet aims to provide information about the asylum process, services available and life in the UK for young people seeking asylum. It is well illustrated. It is ambitious in also trying to describe the complex asylum procedures and that variety of ways in which young people can be supported. This booklet is a rich source of information for practitioners and promotes the young person's perspective. All in all this is a helpful guide, which contains useful information and also acts as a starting point for discussion.
Linda Gray, Children's Rights Team, CAFCASS newsletter