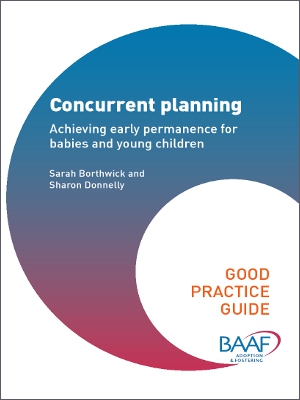 Concurrent planning PDF ONLY
£12.45
As the Government in England seeks to place more children earlier with prospective adopters, concurrent planning is a much discussed issue. Is concurrent planning a solution to the challenge of increasing numbers of children in care, and to the amount of time that children have to wait before adoption? Could it become part of "mainstream practice"? And what would this mean for adoption and fostering practice, recruitment, support and resourcing?
Concurrent planning – placing a child with carers who will foster the child while rehabilitation is pursued with birth parents, and who are prepared to adopt the child should rehabilitation prove unsuccessful – has been explored and used in the UK for some years, but mostly in a limited form. The approach has benefits for children, allowing for a small number of moves and carers, and a faster adoption placement, should this be the outcome. However, recruiting and preparing carers who can cope with the uncertainty and intensive contact demanded by the process is not an easy task. Concurrent planning has also been seen, at times, as a "back door route to adoption" rather than encouraging rehabilitation, as many infants in these schemes are adopted.
This Good Practice Guide considers aspects of concurrent planning which will be vital knowledge for practitioners and managers considering adding to their placement options for children in care, or expanding an existing service.
Who is this book for?
Practitioners, managers and all those involved in the use of concurrent planning for children in care.
What you will find in this book
The guide examines:
what concurrent planning entails, for all those involved
the historical and research background
the legal framework
how concurrent planning fits into care planning pathways, and what should be considered when making a decision to place a child with concurrent carers
the important role of contact, and the practicalities of preparing all parties, organising contact sessions and supporting the birth parents and carers
Concurrent planning is complex, and requires thought and consideration from practitioners. This guide shows how and why it can be an important option for care planning.
Authors
Sarah Borthwick is an independent social work trainer and consultant, providing training for social workers and managers, foster carers and adoption and fostering panel members. She chairs an adoption and permanence panel and three fostering panels for local authorities.
Sharon Donnelly is an independent social work trainer and consultant. Previously she was the Head of Service for Fostering and Adoption at Brighton and Hove City Council and was involved in setting up and managing the first concurrent planning team based within a local authority.
This book is out of print. It can be downloaded free by CoramBAAF members from the members' area of the website. The pdf file can be purchased by non-members.