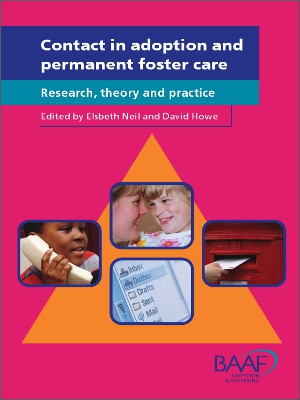 Contact in adoption and permanent foster care
The idea of separated children maintaining some form of contact with their birth relatives is common in fostering and adoption, but there is an urgent need for more research on this sensitive and difficult issue.
This book gathers together the latest thoughts and research findings of many of the leading authorities on the subject of contact in adoption and permanent foster care. By looking at both infant and older child placements and the varying characteristics of permanent carers and birth relatives, the authors provide a comprehensive analysis of contact, when and when not to recommend it, and the demand to keep firmly in mind at all times the developmental needs of children.
Who is this book for?
This book will be invaluable for social work practitioners, policy makers and anyone in the academic community with an interest in contact.
What you will find in this book
This edited collection contains chapters from a wide range of researchers on different aspects of contact, including:
Contact after adoption: outcomes for infant placements in the USA
A longitudinal perspective on changes in adoption openness: the birth mother story
The "Contact after Adoption" study: face-to face contact, and the perspectives of birth relatives after adoption
Direct post-adoption contact: experiences of birth and adoptive families
Promoting security and managing risk: contact in long-term foster care
Placing older children in new families: changing patterns of contact
Dilemmas and opportunities in contact in foster care
Post-placement contact between birth parents and older children: evidence from a longitudinal study of minority ethnic children
Contact in cases in which children have been traumatically abused or neglected by their birth parents
Authors
Elsbeth Neil is a lecturer at the School of Social Work and Psychosocial Studies, University of East Anglia. David Howe is a Professor at the School of Social Work and Psychosocial Studies, University of East Anglia. Contributors to the collection include Michael Rutter, Gillian Schofield, Mary Beek, Harold Grotevant, Ruth McRoy, Julie Selwyn, Ian Sinclair, June Thoburn and Kate Wilson.
Sorry, but this product is currently out of stock.
Reviews
This important book takes the field forward in a decisive fashion through its bringing together of systematic findings from both quantitative and qualitative research by several different research groups in both the UK and North America.
Professor Michael Rutter
An essential reference work for contact issues is always welcome. This one encourages careful thinking about the plans for children in permanent care, taking into account the relevant issues of the planning process. The research examines the best results for children and highlights the importance of continuing social work support to contact arrangements.
Barbara Davis, Social Worker, Highland Council, Community Care Magazine
Neil and Howe counsel against adhering to a formatted ideological approach, influenced by fashions and trends in practice. Instead, they sensibly argue that the focus should be on addressing the individual contact needs of each child in question. This book helpfully pulls together several recent research studies on permanence and contact. Several professionals I work with have already made use of the penultimate chapter, addressing contact where children have been traumatically abused or neglected. David Howe is an engaging speaker who can captivate an audience and present complex material in straightforward and accessible language. His skills are apparent in this publication, which is thoroughly recommended.
Sharon Dyche, Family Court Journal 3:2