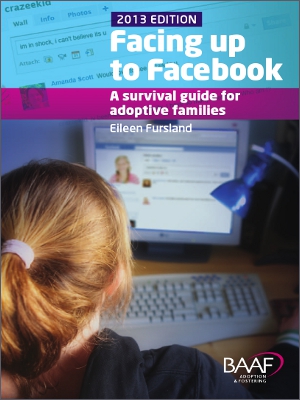 Facing up to Facebook
£14.95
The use of Facebook has already had an impact on many adoptive families and has the potential to affect many more. Increasingly, young people are using it as well as other social networking sites or websites to trace and contact their birth parents or other birth relatives. Birth relatives are using the internet to trace their children. Once they have made contact, adopted young people may go on to have phone calls and even meetings with their birth parents or brothers and sisters – often in secret and therefore bypassing the support and safeguards that are usually in place. 
Facing up to Facebook explores the many pressing questions and concerns facing adoptive parents:
What do they and their adopted children need to know about adoption in the Facebook age?
How can they be equipped for new challenges?
What do they need to know about protecting privacy and security in the best interests of their children and wider family?
How can they manage the complex situations that arise from unauthorised and unmediated contact?
What help and support are available?
Facing up to Facebook provides a considerable amount of information, raises important questions and offers essential advice.
Who is this book for?
Adoptive families affected by the new reality of adoption in the age of social networking.
What you will find in this book
The guide demystifies the technology behind social networking sites, provides a practical explanation of how they work and tackles key issues such as internet safety, privacy and identity protection. It examines the challenges faced by all parties involved in contact after adoption and look at balancing the adopted child's curiosity and need to know with the adoptive family's fears and concerns around security and disruption.
Case studies and quotations enable others' experiences to be shared, and reveal the potential and very significant risks that some people have experienced. Although it does not provide any easy answers, this guide includes hard-won insights from adoptive parents who have had to face up to the impact of Facebook.
Author
Eileen Fursland is a freelance writer who has written several titles for CoramBAAF. She also designs and delivers training sessions to help foster carers, adopters and social workers to meet the challenges posed by social networking.
Reviews
Facing up to Facebook...provides information, raises important questions and offers essential advice for anyone raising a child who is not their own. Facing up to Facebook provides a practical explanation of social networking sites and examines the challenges faced around online contact, privacy and identity protection.
Alison Blaxland, Grandparents Raising Grandchildren Network
This is a recommended read for all adopters. It is an easy read and I found it useful. Glad I bought it.
Sd, five stars, Amazon.co.uk