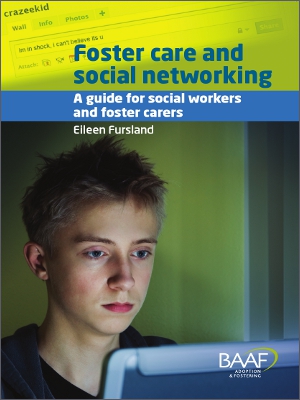 Foster care and social networking
£14.95
The "social" use of the internet has had a huge impact on society and the way people communicate with one another. Social networking sites such as Facebook have made finding and contacting people easier than ever before, with both positive and negative outcomes. Little wonder then that it is making an impact on foster family life.
Foster care and social networking examines the challenges faced by all parties involved with fostered children and looks at how foster carers can help children make the most out of opportunities the internet can bring, while minimising online risks to themselves and their family.
It looks at the pressing questions facing foster carers and fostering workers, including:
What do foster carers, birth relatives and social workers need to know about foster care in the age of social networking?
How can they be equipped for new challenges?
What do workers and carers need to know about protecting privacy and security online so that they can give advice to young people?
How can social workers help foster families to manage the complex situations that can arise from the use of social networking sites?
The publication of this book was supported by Progress Foster Care.
Who is this book for?
Foster carers and social workers who work with and support them.
What you will find in this book
The guide provides a wealth of information. It raises important questions and offers valuable advice. Case studies and quotations from foster carers and fostering workers enable experiences to be shared, and reveal the potential and significant risks that some people have experienced and also the strategies used to manage difficult situations.
Author
Eileen Fursland is a freelance writer who has written several titles for CoramBAAF. She also designs and delivers training sessions to help foster carers, adopters and social workers to meet the challenges posed by social networking.
Reviews
If the internet is something you're still getting to grips with, then this book is a must. Eileen talks about the advantages of social network sites, as well as things to watch out for. The scenarios shown help you gain a broader sense of what your young people may be up to, and there is a list of the different support available to foster carers.
Foster Families, Fosterfamilies.co.uk
This is a must read book for social workers and foster carers which explores the issue of looked after children and their use of online communications. Contact/non contact has to be managed and the book gives some helpful starting points for foster carers/social workers anxious about this area of work. There is a useful chapter on safe foster care online practice. Case studies interspersed throughout the book give good examples as to why this is a live and current topic and one not to be ignored.
Lynn Jackson, LSCB E-Safety Lead Officer, British Association of Social Workers, Books Extra