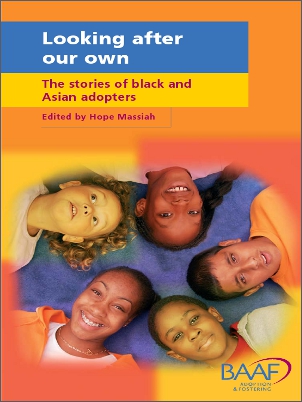 Looking after our own
This inspiring collection looks at the experiences of nine adoptive families and their children – all of Asian, African or Caribbean descent. It explores their motivations to adopt, what their social workers had to offer (or not), the roles of their friends and family, and what adoption has meant to them. Told in the first person, these absorbing stories offer pointers to what can make for a successful adoption and, equally, some things to avoid.
With the knowledge that black and mixed heritage children in the care system wait longer than any others for a permanent family, this collection will be of great interest to all involved in recruiting and working with black and minority ethnic carers and adopters, as well as those thinking about adoption or fostering, or going through the process.
Who is this book for?
Those of black and minority ethnic heritage who are thinking about adoption or fostering, or who are currently going through the process, and all those involved in recruiting and working with these groups.
What you will find in this book
'When I first called social services asking if I would be able to adopt I really believed that they were going to say no. I thought you had to be a certain type of person to adopt. I had this image in my head of someone middle class, wearing Laura Ashley, with a husband and 2.4 children. To my surprise they were quite keen. I rang up and said, 'I'm black, I'm single, I'm a lesbian and I want to adopt,' and they said, they didn't see why not, so I replied, 'Are you sure you heard what I just said?' The response was, 'Yeah, we can come round and talk to you about it.' Even after they first came to see me to talk about the possibilities, it took a while for me to believe it was actually going to happen.'
'In many black communities there is a tradition of fostering and adopting in the extended family, but it's something you do as a favour and out of generosity. You don't expect to be vetted beforehand and it's sometimes felt to be quite insulting that you have this generous motive to take a child in, only to be asked questions…I think an education task needs to be carried out in the black community about child protection issues. To other black people considering adoption, I would say go for it.'
Editor
Hope Massiah is a writer and adoptive mother. Her stories and poems have been published in a number of anthologies. She has also worked as a secondary school teacher, voluntary sector manager, freelance trainer and management consultant.
Sorry, but this product is currently out of stock.
Reviews
This small collection of stories reflects the continued need within the adoption profession to work with a cultivate minority adopters. Despite feeling alienated at times during the process, all the adopters who shared their stories enthusiastically supported and encouraged others to adopt.
Hollee McGinnis, Evan B. Donaldson Adoption Institute, New York, Adoption Quarterly