Primary tabs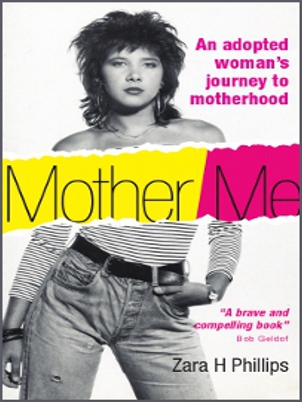 Mother me
£5.00
As the adopted daughter of well-meaning and loving parents, Zara always feels out of place; she grows up feeling insecure and alone, consumed by a void she finds impossible to fill. Her sense of isolation leads to rebellion and a downward spiral to a rock 'n' roll lifestyle fuelled by addictions to drugs, alcohol and destructive relationships. Then come reunion and recovery, as a move to California, marriage and, above all, the birth of her three children help her to reach an understanding of her past and a final sense of compassion for both her adoptive and birth families.
In this intensely personal and compelling memoir, Zara describes her feelings and explores her relationships with her adoptive and birth mothers, and invites the reader to join her in her own journey to becoming a mother.
Mother me is a frank and honest account which explores the far-reaching impact of adoption on childhood, adolescence, relationships and self-esteem. It also provides a unique insight into pregnancy and motherhood from the perspective of an adopted woman.
Reviews
Hurrah for Zara H Phillips! She has compassionately expressed, with at times alarmingly forthright clarity, so much that is hard to articulate about the adoption experience.
Nimmy March, actor, adopted person and mother of three
This is a brave and compelling book. It's also a probably much needed "how to" and "why to" step-by-step guide through the awful emotional turbulence of adoption. Zara was always talented and driven. Now I know why.
Bob Geldof, singer, songwriter and activist
No one else has covered the terrain that Zara Phillips' memoir explores; that is, how closed adoption affects adopted adults when we become parents. Phillips eloquently tells of the story of growing up adopted in Britain, searching for her original parents, and how the experience of being an adopted adult affects her as she moves to the US, marries, and has three children. The humour and delicious story-telling keep the sometimes harrowing stories from bringing us down. Phillips' love of life moves her and her readers forward in hope. I highly recommend this book to anyone interested in the experience of adoption and how it affects us as we grow and change.
Nicole Burton, five stars, Amazon.co.uk