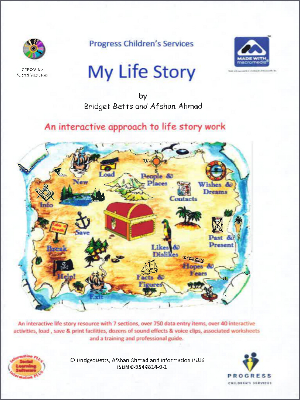 My life story
£59.53
Most children love using computers and this interactive CD-ROM aims to guide worker and child through a range of life story activities to help a child come to terms with the loss of birth family, to understand the reasons for being looked after and to think positively about future plans, while providing opportunities for individual support and counselling should it be required.
Using a colourful and interactive menu based on a treasure island (palm trees, sailing galleon and a treasure chest), My life story opens into seven interactive sections with a wide range of activities, user input, printable worksheets and help. It can be used at whatever level children feel most comfortable with and music, sound effects, colour animation, attractive graphics and interactivity ensure it's just as much fun as it is useful.
My life story is designed to meet the same needs as traditional life story materials but the big difference is in using an approach children understand and don't find threatening.
Who is this for?
This resource is ideal for all those undertaking life story work with children.
Additional information 
System Requirements: Apple mac, or win 95 or higher 16 bit colour and sound card
Reviews
An excellent resource designed to be used by an experienced worker with any number of looked after children... whenever my two children started it was hard to persuade either of them to close it down.
Adoptive parent, Adoption Today