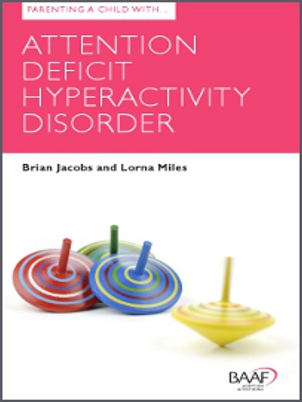 Parenting Matters: Parenting a child with Attention Deficit Hyperactivity Disorder
£7.95
Many adopted and looked after children experience particular health issues or other difficulties, sometimes due to their early experiences of loss and lack of care. This book focuses on Attention Deficit Hyperactivity Disorder. If you are looking to adopt a child, this guide will give you practical and realistic information on what this condition may mean for your child, along with their symptoms, prognosis and treatment.
This book provides expert knowledge coupled with facts, figures and guidance presented in a straightforward and accessible style.
A foster carer/adopter also describes what it is like to parent children with Attention Deficit Hyperactivity Disorder, sharing their parenting experience and offering useful advice.
This book is part of CoramBAAF's Parenting Matters series which explores many of the health conditions commonly diagnosed in looked after children.
See more titles in this series.
Who is this book for?
A useful book for adopters, those thinking about adopting, foster carers, social work practitioners and all those involved in the care of looked after children. The combination of expert information and first-hand experience will help readers gain knowledge and understanding and to make informed decisions.
What you will find in this book
The first half of the book starts with a short explanation of ADHD and what this condition can mean for children.
The book then looks at:
The symptoms, prognosis and treatment of ADHD
Specific parenting tasks associated with this condition
How ADHD may affect a child at different ages and stages
The second half of the book tells the story of Lorna Miles, a foster carer and adopter, and her experiences of parenting children with ADHD and how this affected day-to-day family life.
'One of the first children we fostered who was hyperactive I the extreme was Rory. He arrived with the police as an emergency placement late one Friday evening, having been left "home alone" by his teenage mum. Having Rory, aged eighteen months, in the house was like living with a whirlwind. He rarely slept and, unless I could give him my undivided attention, needed to be contained in a playpen; otherwise he would dismantle the house within seconds. His climbing skills would have put Sir Edmund Hillary to shame, and even when we were outside the house it would wreak havoc.'
Authors
Brian Jacobs is a Consultant Child and Adolescent Psychiatrist who has specialised in working with children who have complex neuropsychiatric disorders in inpatient and outpatient settings in the South London and Maudsley NHS Trust for the past twenty years. Prior to that, he worked at Queen Mary's Hospital for Children in Carshalton. He has particular interests in training future child psychiatrists and actively works to support this across Europe.
Lorna Miles is an adoptive parent and has been a foster carer on and off for 25 years. In addition, she has worked with children in care in a variety of settings. She is involved in training foster carers and runs workshops on attachment.