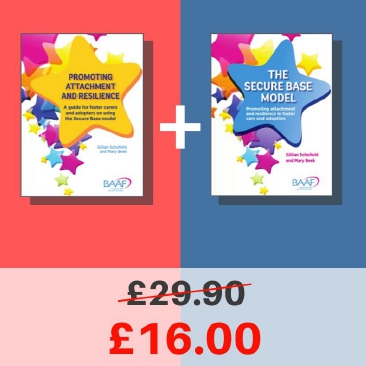 Promoting attachment and resilience + The Secure Base model
£29.90
£16.00
Secure Base is a model of caregiving in fostering and adoption that is based on theories of attachment and resilience while also drawing on child placement research. It provides a valuable framework and strengths-based approach for making sense of fostered and adopted children's needs and behaviours and sets out the dimensions of caregiving that can support children to thrive and to fulfil their potential.
The Secure Base model
This practical guide is designed to support social workers and other professionals involved in all aspects of fostering and adoption practice, from recruitment, assessment and preparation to matching and long-term support for placements through to adulthood.
Promoting attachment and resilience
This practical guide is designed to support foster carers and adopters in offering the best possible sensitive care for troubled children who have often experienced trauma and loss.
The guides are accompanied by a DVD which explains the five dimensions of the Secure Base model in practice through the voices and experiences of adopters, foster carers and young people.