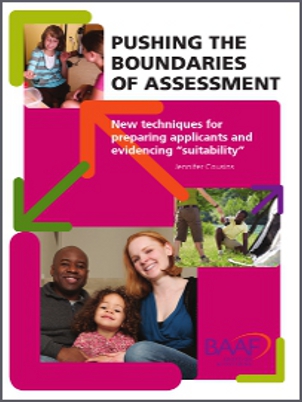 Pushing the boundaries of assessment
Despite the increasing sophistication of adoption and fostering, the gap between the children people want, and the kinds of children who are waiting too long for a family, is as big as ever.
This practical workbook demonstrates that through the use of creative, participatory assessment techniques and imaginative preparation, prospective families can be given the confidence to consider, and adopt, a wider range of children. It examines a variety of issues and models of assessment before guiding the reader through a series of exercises designed to push the boundaries of current assessment and preparation.
The workbook provides an enjoyable, challenging and even controversial stimulus to new developments in practice.
Note: The DVD that formerly accompanied this book is no longer available.
Who is this book for?
All practitioners and managers involved in the adoption assessment process.
What you will find in this book
The book starts with an exploration of various models of assessment, through issues of preparation and matching, to the assessor's role in gate-keeping, observation and what to do about feeling intrusive. The reader is then guided through a series of exercises, each with an explanatory chapter describing "why" and "how". They are designed to push the boundaries of current assessment and preparation, including asking applicants to:
Face questioning from a panel of adopted teenagers
Erect a tent in 20 minutes
Have a child to stay for the weekend
Author
Jennifer Cousins was consultant to BAAF's Opening Doors disability project, which aimed to help agencies develop new and more effective ways to find permanent families for disabled children. She has extensive experience in adoption and fostering, and children's disability. She has published a number of articles and books on these subjects.
Sorry, but this product is currently out of stock.
Reviews
This workbook genuinely does encourage pushing the boundaries of assessment techniques and as such is an excellent tool to encourage fresh thinking and ideas in the very demanding area of matching prospective adopters/foster carers with children with complex needs. Whilst some of the ideas may be a bit extreme, they will promote creative thinking in family placements teams and would be useful for social workers working with children as both parties play an active part in evidencing suitability of a match. I would strongly recommend this essential tool for all workers in the field.
Lorraine Prentice, Team  Leader, Children and Families Team, Argyll & Bute Council, Rostrum