Primary tabs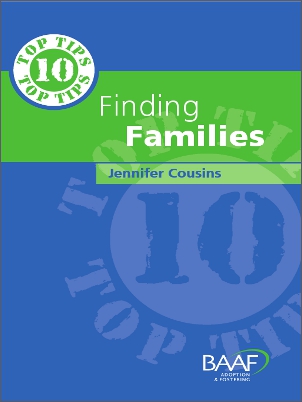 Ten top tips for finding families PDF ONLY
£6.36
This quick reference guide explores the important issue of recruiting new carers and welcoming a wide range of permanent families. Written in an accessible and straightforward style it provides a breadth of information and advice that will provide social workers with a framework for best practice in family-finding.
Who is this book for?
The guide will be particularly useful for newly qualified social workers or social workers new to working in the UK. Established practitioners will be able to use the book to reinforce their practice, for quick reference and to source fresh ideas for recruitment strategies.
What you will find in this book
Each of the ten chapters presents a basic "tip" in an accessible and straightforward style, including:
recruiting widely
targeting efforts
welcoming a diverse group of people
preparing and training families
assessing applicants thoroughly
knowing the child
making realistic plans for each child
producing high quality material about children
featuring children in a variety of ways
making a good match
The book also looks at new methods of family-finding, including exchange days and DVD/video profiling events aimed at linking children with prospective carers. Throughout issues are discussed and pragmatic suggestions are made about improving the effectiveness of family-finding. Each chapter contains a summary of the tips for easy reference.
Author
Jennifer Cousins worked as a disability consultant for BAAF.
This book is out of print. It can be downloaded free by CoramBAAF members from the members' area of the website. The pdf file can be purchased by non-members.