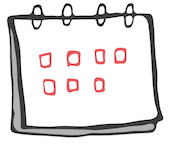 Chairing meetings with confidence
THEME
The responsibilities of a Chair can be considerable. Whereas some duties may be clearly outlined in related practice guidance along with the qualities that ensure effective chairing, not all Chair responsibilities are so helpfully detailed or provided.
This workshop will explore general planning for and facilitation of panels and complex meetings in the children's sector.  It will explore time management and group facilitation whilst holding the child at the centre of thinking, recommendations and decision making.  It will enable Chairs of meetings to consider good practice and approaches to effectively managing the flow of information, summarising and the formation of key action plans. 
This workshop will provide an opportunity to consider the Chair's role in enabling and fulfilling quality assurance functions as well as sharing common issues and dilemmas and best practice. 
WHO SHOULD ATTEND?
This workshop is designed for team managers, advanced practitioners, lead consultants, senior social workers chairing meetings and Chairs and Vice-Chairs of fostering and permanency panels, or those being considered for these roles. 
25 places available.  
LEARNING OUTCOMES
To understand the role and responsibilities in chairing panels and meetings
To explore the chairing of complex meetings and enabling effective management of group dynamics
To hold the child at the centre of recommendation and decision making processes in meetings and panels
To identify the relevant skills and knowledge needed in order to
effectively chair meetings including adoption and fostering panel meetings.
To increase awareness of how panel meeting member's personal values and histories impact upon the panel and meeting process
To share good practice
FACILITATORS
Alison Davis, Associate Trainer, CoramBAAF (subject to change)
TIME
Registration 9.45 am*
Start  10.00 am*  
Close  4.00 pm* 
*Times subject to change
FEES
Full or associate CoramBAAF member £105.00 + £21.00 VAT - Total £126.00
Individual CoramBAAF member £85.00 + £17.00 VAT - Total £102.00
Non-member £130.00 + £26.00 VAT - Total £156.00
Adopters/Fosters carers £85.00 + £17.00 VAT - Total £102.00
Student discount for all fees - 20%
CONTACT
Telephone 020 7520 2043 / 020 7520 2041
Email events@corambaaf.org.uk
MEMBERSHIP DISCOUNT FOR WORKSHOPS
Don't forget to log into your account before checkout to receive your membership discount on workshop bookings. Not a member of CoramBAAF? Read about the benefits of CoramBAAF membership for individuals and organisations.
Need help logging in? If you're having trouble logging in, please see this page for help.
Sorry, but this is fully booked and tickets can no longer be purchased.