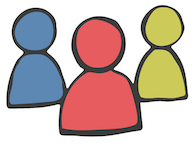 Contemporary perspectives on kinship care arrangements and experiences in the UK, Chile and South Africa
THEME
This symposium focuses on kinship care and special guardianship for children. It brings an international perspective with contributions from England, Chile and South Africa. Research from children's as well as carers' and professionals' viewpoints are included. New family arrangements are explored, particularly in relation to grandparents caring for children in later life. The overarching concern for this symposium relates to the concepts of 'blood ties' and family relationships, and what these mean in Western contexts, South America and South Africa.  
Researching family structures and models of care cross-culturally enables us to explore how children can best be cared for within their family and community networks and what children tell us about the meaning of these care relationships. This helps us to consider support systems for family carers in later life in different cultural contexts and from a relationship-based perspective. 
This symposium is also scheduled to take place at the European Social Work Research Conference in Romania, in 2021. The speakers have kindly agreed for CoramBAAF to host an online version in advance. We hope that this online platform will enable a wide engagement. It will be of interest to service user, practice, policy and research communities. 
TOPIC & SPEAKERS
'Grandparents as Special Guardians in England: Experiences of kinship and contact'
Dr Helen Hingley-Jones, Middlesex University
'Lawyers', Social Workers' and Carers' Perspectives on Special Guardianship: Moral dilemmas and court processes'
Dr Lucille Allain, Middlesex University
'Mamabuelas: Grandparent Kinship Care in Chile'
Carolina Gutierrez, University College London
'What matters to children living in kinship care in England?'
Paul Shuttleworth, University of Sussex
'Cross-cultural research on kinship care of children in Zululand, South Africa and the SW of England'
Dr Jill Davey, Napier University, Edinburgh
CONTACT
Kay Mirza, events@corambaaf.org.uk
Sorry, but this is fully booked and tickets can no longer be purchased.