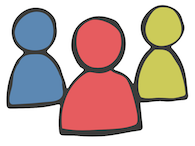 CoramBAAF Annual Health Group Conference
BREATHING SPACE
A day to download, consider wellbeing and think about health services for care experienced children and young people.
The conference will be of interest to health, social care and other professionals working with children in care.
This event  aims to  encourage practitioners to consider how wellbeing can be supported from a number of different perspectives.
To open the day we will be joined by Kelda Wood and Nick Beighton – Kelda runs the charity "Climbing Out "who work with people who have experienced life changing physical or mental trauma or illness. Kelda and Nick were both members of the GB Paracanoe Team, having experienced life changing injuries themselves. Kelda was part of the Adaptive Grand Slam Mountaineering team and Nick is a Paralympic Medalist..... they have much to share about mental health and wellbeing.
We had very much hoped to host an in person event this year but a recent consultation with our members confirmed that an online event was preferred. The chance to chat in the "conference hall" coffee queue however is missed by many and so this event will include a number of opportunities to talk with others in small groups on screen.
HEALTH GROUP MEMBER CONTRIBUTIONS
In place of poster presentations we will have brief "Share Slots". We are very pleased to say that a number of health group members will be presenting  descriptions of new projects and developments from their areas. Do take a look at the program for details.
And as we can't have pastries and a nice lunch, CoramBAAF will provide an exciting prize for our conference day quiz.
TIMES
Registration 9.45am
Start  10.00am 
Close  3.45pm
PROGRAMME
9.45am - Register and enter breakout session
10.00am - Welcome, Dr Lynn Snow, Chair of CoramBAAF Health Group and Designated Doctor for Looked After Children/Specialty Doctor Community Paediatrics, Leicester, Leicestershire & Rutland
10.10am - A Different Approach to Mental Health – Resilience and the Outdoors, Kelda Wood founder of "Climbing Out" in Conversation with Nick Beighton, Paralympic Athlete
10.50am - Breakout session                            
11.05am - Health Experiences of Children and Young People in Care, Áine Kelly
Messages From Research and Personal Experience, Rees Centre DPhil Student, Care Leaver
11.45am - Refreshment break                       
11.50am - Support to Children in Care, Dr Gavin Lockhart, Assistant Director of Programmes (CYP) Clinical Lead for CYP Mental Health, South East Region and Lajla Johansson, CYP Improvement and Delivery Senior Manager NHSEI
12.30pm - Lunch                   
1.00pm - Share Slots:        
Don't Catch Covid - Dr Lin Graham Ray
Novel Clinic Settings for physical assessment - Dr Isabelle Hodgson
Pictorial paperwork - Cathy Jermey, Named Nurse
1.30pm - Breakout session
1.45pm - "Unaccompanied Migrant Children, a Trauma Informed Model of Care, Developments in Portsmouth", Dr Jenny Gonde, Consultant Paediatrician and Katy Benham, Clinical Psychologist
2.15pm - Dear diary: What my childhood journals say about the challenges I faced when 'home' lacked a heart, Rebekah Pierre, Care Experienced Social Worker and Professional Officer at BASW (British Association of Social Workers) 
2.50pm - Tea break                           
2. 55pm - Green Care, Tom Brown, CEO The Green Light Trust
3.35pm - Closing Comments and Quiz result, Dr Lynn Snow
3.45pm - Close
CONTACT
Telephone 020 7520 7520
Email events@corambaaf.org.uk
MEMBERSHIP DISCOUNT
Don't forget to log into your account before checkout to receive your membership discount on workshop bookings. Not a member of CoramBAAF? Read about the benefits of CoramBAAF membership for individuals and organisations.
Need help logging in? If you're having trouble logging in, please see this page for help.
FEES
Full or associate CoramBAAF member £150.00 + £30.00 VAT - Total £180.00
Individual CoramBAAF member £120.00 + £24.00 VAT - Total £144.00
Adopters/Fosters carers £120.00 + £24.00 VAT - Total £144.00*
Non-member £200.00 + £40.00 VAT - Total £240.00
* contact the training team at details above to book your place at this rate.
Sorry, but this event has passed and tickets can no longer be purchased.