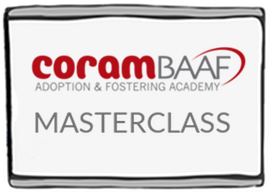 CORAMBAAF MASTERCLASS: VIPP-SD in family placement practice
THIS IS A FREE EVENT AVAILABLE TO CORPORATE MEMBERS ONLY. FIRST COME FIRST SERVED, ONE PLACE PER AGENCY.
THEME
Video-feedback Intervention to promote Positive Parenting and Sensitive Discipline (VIPP-SD) in family placement practice is the original video-feedback intervention for parents. It was developed by some of the world's leading attachment researchers and is a preventative intervention aimed at increasing parental sensitivity. It has an excellent evidence base for preventing or reducing behavioural problems in young children.

This CoramBAAF Masterclass, developed in partnership with the Tavistock and Portman NHS Foundation Trust, will explore the rationale, evidence and details of the VIPP-SD. Presentations will be made by the Tavistock and Portman VIPP team with opportunities for discussion, reflection and challenge about the intervention and its contribution to effective, evidence based interventions in family placement.
ABOUT VIPP-SD
The concept of attachment is hugely significant when it comes to understanding the basics of child, adolescent and adult development. This is particularly so for children who come into care when they are likely not to have experience of a loving, committed, safe and secure relationship with their parents or other adults. In planning for these children, this will be one of the key factors professionals will need to address and there is little doubt that this is central in both policy and practice. The challenge in doing so is that the child will have adapted as a result of their experience of poor quality or threatening parenting with limited or even fearful and avoidant expectations of any new parental figures – adopters, special guardians or foster carers.
VIPP-SD is an intervention designed to address these issues with the aim of sensitising and enhancing carers' responses to and relationship with their child in the early years and soon after placement. As a part of that intervention, video recordings of the child and their carer are made to enable detailed observations and discussions to take place that can identify the messages the child conveys about their positive and negative relational approach. VIPP-SD has a strong evidence base with research evaluations of impact and outcomes published in the international literature.
WHO SHOULD ATTEND?
CORPORATE MEMBERS ONLY.
Fostering and adoption social workers and team managers, adoption and fostering teams, child care teams, service managers, children's guardians, CAFCASS, special guardianship assessors, adoption and fostering panel members and advisers, adoption support services advisers (ASSAs), CAMHS workers, health and education professionals, adoptive parents, residential and care workers. 
You will need to be logged in in order to book below.
40 places available.
Sorry, but this event has passed and tickets can no longer be purchased.