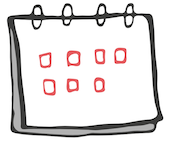 The roles & responsibilities of supervising social workers in supporting foster carers
Receive a 10% discount if you book your place at this workshop before 5 February 2020 (discount will be automatically applied at the checkout). Limited availability - book early to avoid disappointment.
THEME
The role of the supervising social worker is complex, involving managerial, supervisory, educative and support functions. This course provides supervising social workers an opportunity to review their role and responsibilities in relation to foster carers and to consider the development of best practice.
WHO SHOULD ATTEND?
Supervising social workers
Fostering managers
LEARNING OUTCOMES
Participants will be able to:
Increase their understanding of the supervisory requirements of supervising social workers, in line with fostering legislation
Review the roles and responsibilities of the supervising social worker in relation to safeguarding children and young people
Consider supervisory styles and techniques in order to develop best practice 
Explore methods and ways of supporting foster carers and developing their skills
FACILITATOR
Jacqui Lawrence* - CoramBAAF Trainer Consultant
Facilitator subject to change*
TIME
Registration 9.30am – 9.55am*
Start   10.00am*  
Close    4.00pm*  
Refreshments/lunch provided 
NB  *Times subject to change
FEES
Full or associate CoramBAAF member £105.00 + £21.00 VAT - Total £126.00
Individual CoramBAAF member £85.00 + £17.00 VAT - Total £102.00
Non-member £130.00 + £26.00 VAT - Total £156.00
Adopters/Fosters carers £85.00 + £17.00 VAT - Total £102.00
Student discount for all fees 20%
CONTACT
Telephone 020 7520 2041/43
Email [email protected]
MEMBERSHIP DISCOUNT FOR WORKSHOPS
Don't forget to log into your account before checkout to receive your membership discount on workshop bookings. Not a member of CoramBAAF? Read about the benefits of CoramBAAF membership for individuals and organisations.
Need help logging in? If you're having trouble logging in, please see this page for help.
Sorry, but this is fully booked and tickets can no longer be purchased.