Thanks for the interview, Elaine! Perhaps you could tell us about yourself, your background and work with CoramBAAF?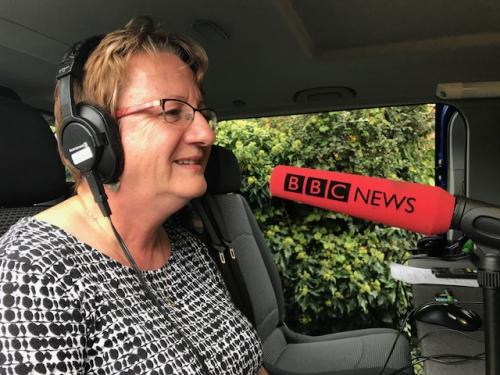 I started my social work career in residential social work and then qualified as a social worker in 1988, so I've now worked in the field of adoption and fostering for 30 years, in both local authority and voluntary adoption agency settings.
I joined BAAF in 2004 to become manager of the Independent Review Mechanism, which I set up and ran for five years, before taking on a wider role in BAAF as a trainer consultant, first as the Fostering Development Consultant, then as the Adoption Development Consultant. I have also had over 15 years' experience of working with panels - first as an Adoption Panel Adviser and more recently as a Panel Chair for both adoption and fostering panels. 
I represent CoramBAAF on the National Recruitment and Matching Forum and the Early Permanence Working Group (originally established by the DfE and now run by Coram) and I have also sat on several research advisory groups, and responded to press requests for information on Adoption and Fostering issues.
Since working for BAAF/CoramBAAF I have been given the opportunity to write several Good Practice Guides for social workers including Adoption by Foster Carers (2016) with Viv Howorth, Completing a Child's Permanence Report (2014) with Nicky Probert, Julia Wilson and Lyn Bugarski, Parent and Child Fostering, with Paul Adams (2011), Preparing to Adopt (2014), with Eileen Fursland and Nicky Probert, Undertaking an Adoption Assessment in England (2010) (third edition 2017) and most recently The Role of Fostering for Adoption in Early Permanence with Viv Howorth. 
Where possible I have also delivered presentations about some of these issues at seminars, workshops or conferences as with our forthcoming conference on FfA in January
Can you tell us a little more about the conference in January? What sort of people should attend this, and who is it for? How can these discussions help attendees and carers in their understanding of FfA? 
The January conference deals with FfA, focusing on its role in reducing the number of moves a child makes before finding a permanent home. At a time when many local authorities and VAAs are developing their early permanence services we are hoping that these agencies will send the relevant social work managers or practitioners involved from their adoption, fostering and childcare teams to hear from the speakers about best practice and to learn from the experiences of others attending. Other professionals who are involved in decision making for children in such arrangements may also find it helpful, for example, independent reviewing officers and children's guardians.
So far, what kind of impact has FfA had – has it helped in making the right placements for children?
We know from the DfE statistics that have been published that there has been a year on year increase in the use of concurrent planning and FfA placements – from 260 in 2015 to 320 in 2016 and most recently 380 children in 2017. The advantages for children being placed through this route are a reduction in the number of moves and delays these babies and young children experience prior to being placed in their permanent home, and the formation of earlier attachments between the child and their permanent carers. For the FfA carers who become prospective adopters there is the opportunity to experience that earlier bonding and to be part of many of the child's first events and milestones that are such important memories for children to know about in the future.
What are the main challenges and areas of controversy around FfA? Are there any examples of this?
Whilst children are placed in FfA, their carers are acting as foster carers while decisions about their long term care are being made in the courts. There have been concerns from courts, children's guardians and birth family members that placing children with carers who could go on to offer adoption can be seen as pre-empting that court decision and several local authorities who have wanted to make such placements have experienced opposition about this whilst going through the court process and have had to delay making a placement until after the Placement Order has been made. 
The other difficult cases for the prospective adopters offering FfA placements are the small number of cases where the child does return to their birth parents or other family members as a result of the court process.  Whilst this will be judged to be the right outcome for the child it is challenging for their FfA carers, but we have heard of cases where the carers have worked positively with parents or extended family members to support the child through their move and to ensure the best outcome for the child. These FfA carers need a lot of support during this time both from the agencies involved and their family and friends.
Your book The Role of Fostering for Adoption in early permanence was recently published, and it's now five years since FfA was introduced. What's changed over that time, and where do you think things are going? 
It has been interesting to see how FfA has progressed since the concept was developed five years ago. The development of FfA was championed by BAAF's Alexandra Conroy Harris and John Simmonds as a way of enabling more children to achieve permanence in a timely way. Some agencies embraced the idea and have made over 50 placements this way since 2013 and we met some real 'social work champions' who have been helping make FfA work for children and families whilst others are still looking at how they can introduce this new concept to their workers, decision makers and prospective adopters. 
Many said that you wouldn't find prospective adopters who would be willing to take the risk, embrace the fostering role and go through the additional uncertainties presented by FfA but I have been so impressed with some of the adopters I have heard from, talked to or met who have really understood the benefits of this route to permanence for children.
I can envisage that FfA will continue to become firmly embedded in social work practice with more children being enabled to find stability and security on their journey to permanence at an earlier stage when their permanent placement does not lie within their birth family.