Our conferences and seminars provide delegates with opportunities to learn about new developments, hear from and interact with expert speakers, and network with others with shared interests.
They are designed to meet the needs of the children's workforce and to keep workers well informed in an environment that is ever changing.
1 July 2019 Birmingham
CoramBAAF's one-day Health Group conference provides an opportunity to reflect on outcomes-based practice. Achieving positive outcomes requires planning, provision of care and commitment from multiple partners / agencies. During this conference we will look at how different parts of the health, legal, education and social care system evaluate outcomes. We will explore how combined efforts and interactions are key in a whole system approach and reflect on the multiple factors that affect outcomes for looked after and adopted children.
It is important to evaluate practice and interventions, and health professionals should be able to describe their service provision in terms of performance, quality and outcomes. Performance is not synonymous with outcome. We need to be able to describe how we identify, define and measure outcomes.
There will be presentations from new areas of research, including using SDQs (Strengths and Difficulties Questionnaire). We will consider a model for outcomes-based practice and reflect on how health professionals work within the multiagency team.
Advertisement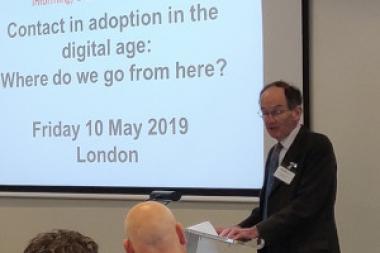 Adoption and Contact: A Judicial Perspective
The Rt. Hon Sir Andrew McFarlane, President of the Family Division, opened the CoramBAAF conference on 'Contact in adoption in the digital age: Where do we go from here?' with his view on where we stand in relation to the legal framework and its link to policy and practice.
Download the presentation
Beyond Together or Apart: brothers and sisters are for life.
Hear from the speakers at our September 2018 conference on planning for, assessing and placing sibling groups.