Our conferences, masterclasses and seminars provide delegates with opportunities to learn about new developments, hear from and interact with expert speakers, and network with others with shared interests.
They are designed to meet the needs of the children's workforce and to keep workers well informed in an environment that is ever changing.
CoramBAAF members - book one place and get  subsequent places for half price!
20 November 2019 | London
This conference will examine the factors that contribute to the mental health challenges that looked after and adopted children face. Delegates will explore a model of support that enables social workers, carers, adoptive parents and health professionals to make the most of their knowledge and skills - working together. ALL DELEGATES RECEIVE A FREE COPY OF THE GOOD PRACTICE GUIDE.
5 December 2019 | London
FREE conference for CoramBAAF members
Run by CoramBAAF in partnership with The Centre for Family Justice Research at Lancaster University, this conference will present findings from the latest research on the use and outcomes of special guardianship, provide a platform for special guardians and explore the priority issues for policy and practice change.
Register your interest in this event
20 January 2020 | London
FREE conference for CoramBAAF full member agencies only
The first Regional Adoption Agencies were established in 2017 and it is expected that by early 2020 all RAAs will be fully operational. This conference will provide an overview of progress to date and showcase some of the practice initiatives now being established in RAAs so that we can start to explore how this new system will be able to achieve the ambitions identified at the outset.
Advertisement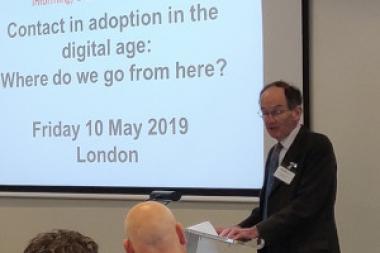 Adoption and Contact: A Judicial Perspective
The Rt. Hon Sir Andrew McFarlane, President of the Family Division, opened the CoramBAAF conference on 'Contact in adoption in the digital age: Where do we go from here?' with his view on where we stand in relation to the legal framework and its link to policy and practice.
Download the presentation
Beyond Together or Apart: brothers and sisters are for life.
Hear from the speakers at our September 2018 conference on planning for, assessing and placing sibling groups.