Our conferences, masterclasses and seminars provide delegates with opportunities to learn about new developments, hear from and interact with expert speakers, and network with others with shared interests.
They are designed to meet the needs of the children's workforce and to keep workers well informed in an environment that is ever changing.
26 NOVEMBER - ONLINE EVENT
It is 40 years since the formation of BAAF, and in fact the CoramBAAF Health Group (in various forms) has been in existence longer, since 1964. The health conference has always sought to bring practitioners together to discuss emerging developments in practice, share new information and highlight innovation. This year we will need to come together and share online.
POSTPONED - NEW DATE TO BE ANNOUNCED
Looking after teenagers in care is one of the most challenging aspects of foster care. The UK has a proud history of finding foster families for teenagers, but the increase in the number of children in care in the 10-16 age group, their complex needs, frequent placement moves, and difficulties in recruiting foster carers have led some to question whether the benefits of fostering for teenagers has been over-emphasised. This conference will provide a forum to explore these issues.
Advertisement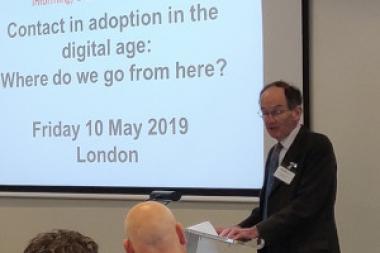 Adoption and Contact: A Judicial Perspective
The Rt. Hon Sir Andrew McFarlane, President of the Family Division, opened the CoramBAAF conference on 'Contact in adoption in the digital age: Where do we go from here?' with his view on where we stand in relation to the legal framework and its link to policy and practice.
Download the presentation
Beyond Together or Apart: brothers and sisters are for life.
Hear from the speakers at our conference on planning for, assessing and placing sibling groups.