Our conferences, masterclasses and seminars provide delegates with opportunities to learn about new developments, hear from and interact with expert speakers, and network with others with shared interests.
They are designed to meet the needs of the children's workforce and to keep workers well informed in an environment that is ever changing.
2 Jun 2020 | London
POSTPONED - NEW DATE TO BE ANNOUNCED
Looking after teenagers in care is one of the most challenging aspects of foster care. The UK has a proud history of finding foster families for teenagers, but the increase in the number of children in care in the 10-16 age group, their complex needs, frequent placement moves, and difficulties in recruiting foster carers have led some to question whether the benefits of fostering for teenagers has been over-emphasised. This conference will provide a forum to explore these issues.
POSTPONED UNTIL NOVEMBER
The annual health group conference brings together practitioners to discuss emerging developments in practice, share new information and highlight innovation.
In a fast moving world, looked after and adopted children, carers and professionals all face emerging new challenges. We will explore what's new in research and legislation and consider the impact of organisational changes.
16 September 2020 | Manchester
FREE legal masterclass for CoramBAAF corporate members.
Cases that have been heard by the Court of Appeal and by the High Court (Family Division) provide valuable learning for social workers, managers, panel members and child welfare professionals working with children needing long-term care plans, including seeking court orders to secure permanency for the child.
There are few opportunities to hear about case law or to discuss the issues raised with colleagues and specialist lawyers. This event closes that gap.
Advertisement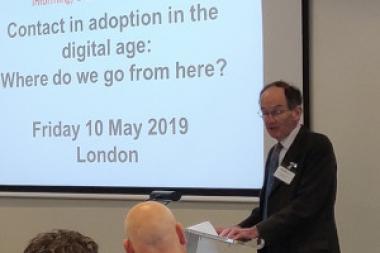 Adoption and Contact: A Judicial Perspective
The Rt. Hon Sir Andrew McFarlane, President of the Family Division, opened the CoramBAAF conference on 'Contact in adoption in the digital age: Where do we go from here?' with his view on where we stand in relation to the legal framework and its link to policy and practice.
Download the presentation
Beyond Together or Apart: brothers and sisters are for life.
Hear from the speakers at our conference on planning for, assessing and placing sibling groups.