We have a wide range of books, guides and other resources that celebrate and support lesbian and gay adoption and fostering.
Children's picture books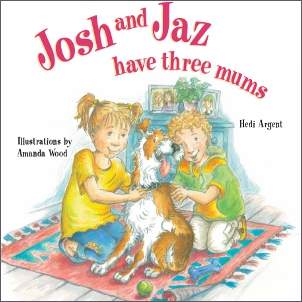 Josh and Jaz have three mums
Josh and Jaz are five-year-old twins who have been adopted by a lesbian  couple, Sue and Fran. When their school teacher asks them to produce a  family tree, they are worried that everyone in their class will laugh because  they have two mums – and what will they say about their birth parents?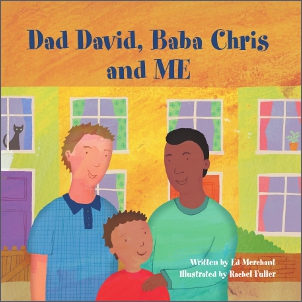 Dad David, Baba Chris and ME
Ben lives with his two dads who adopted him when he was four. Children at  his school find out and begin teasing him. Ben is worried that he isn't so  "normal" any more. But with the help of his dads and his teacher, Ben and  the other children at his school learn that all families are different, and all  special in their own way.
Two dads
Having two dads is double the fun! Many families are different, this family  has  two dads A beautifully illustrated, affirming story of life with two dads,  written from the perspective of their adopted child.
 Two mums
A beautifully illustrated, affirming story of life with two mums written from the  perspective of their child. Written in easy to follow rhyming text, the story  celebrates the diversity of LGBT family life with humour and warmth.
Two mums and a menagerie
Many families are different, this one has two mums. They have plenty of  space and plenty of love, but will the mums and their children be able to  manage their ever expanding animal family?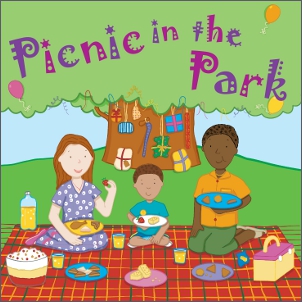 Picnic in the park
It's Jason's fifth birthday and he is going to have a birthday picnic in the park. He has invited lots of people…and they've all brought presents! This story introduces young children to a range of different family structures, including two- and one-parent families, adoptive and foster families, gay and lesbian families, and step-families.
Books for parents and carers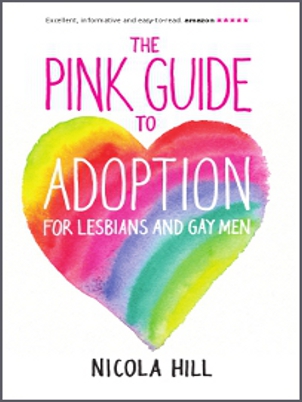 The pink guide to adoption for lesbians and gay men 
How easy is it for lesbian and gay couples to adopt? Can we adopt jointly? Is  the adoption process any different from heterosexual adoption? The pink  guide to adoption answers these and many more questions. It is an essential  step-by-step guide for lesbians and gay men who are considering adoption in the UK.
Proud parents
This is a compelling collection of stories of lesbians and gay men who have  adopted or fostered children. Single and in partnerships, they share their  experiences on a number of issues and write about life as an adoptive family.
Is it true you have two mums?
This is the heart-warming story of Ruby and Gail and their belief in their  potential to adopt. The story charts their journey to becoming parents to  their three daughters and offers a glimpse of their family life over these  extraordinary years, as their family grows together.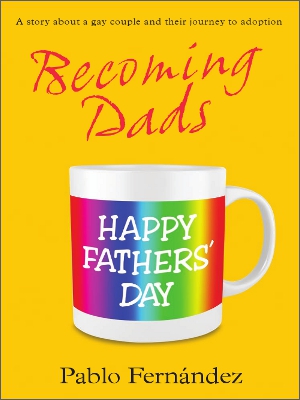 Becoming dads
This is the story of Pablo and Mike, and their journey to becoming adopters.  Set against a contemporary background of diverse perceptions - both  encouraging as well as hostile - as to whether gay men should adopt,  Pablo's diarised narrative tracks this journey, from early challenges through  to the positive affirmations they receive.
For social work professionals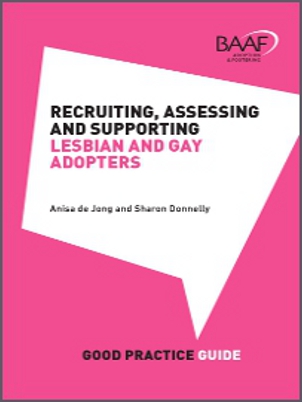 Recruiting, assessing and supporting lesbian and gay adopters
This Good Practice Guide provides practical guidance, information, advice  and signposts to further resources to help agencies and practitioners to  welcome lesbian and gay applicants, and work effectively to assess and  support them.
Advice Notes
Our popular Advice Notes contain essential information for a range of audiences including adopters, prospective adopters, foster carers, social work professionals, birth parents and adopted people.
For foster carers preparing a child to live with lesbian or gay adopters or foster carers
Linking, matching and placing children with lesbian or gay adopters or foster carers (for social workers)
Panel member considering applications from prospective lesbian or gay adopters o foster carers
For children preparing to move to an adoptive family with two dads or two mums
For birth parents (and other relatives) whose child is going to live with lesbian or gay adoptive parents or foster carers