The idea of a Blueprint for Adoption Support Services came out of The Modernising Permanence Programme (MPP), commissioned by the Adoption and Special Guardianship Leadership Board (ASGLB).
The aim of this exercise has been to capture the key elements of some of the most developed adoption support services nationally (two of which have received funding from the Department for Education (DfE) to develop Centres of Excellence (CoE) for Adoption Support). The intended outcome of this tool is to provide the DfE, Local Authorities (LAs), Regional Adoption Agencies (RAAs) and sector leaders with a benchmark against which they can review and adjust resources and systems to make service improvements and achieve whole system change.
Key elements of an adoption support service
17 key elements have been identified for service providers to benchmark their existing services against using the audit tool provided.
The following links give more detail on each element of the tool, and include the government and adopter perspectives, examples of best practice and ideas for future development of services: 
Resourcing
A key issue which cannot be ignored is the level of resources required to implement this blueprint. This is extremely difficult to quantify given the differences between LAs/RAAs and VAAs. In line with the approach of this study, to try to identify benchmarks which will be useful to others, the budget below sets out the anticipated total costs of operating one of the Centre of Excellence for Adoption Support Services for the financial year 2019/20.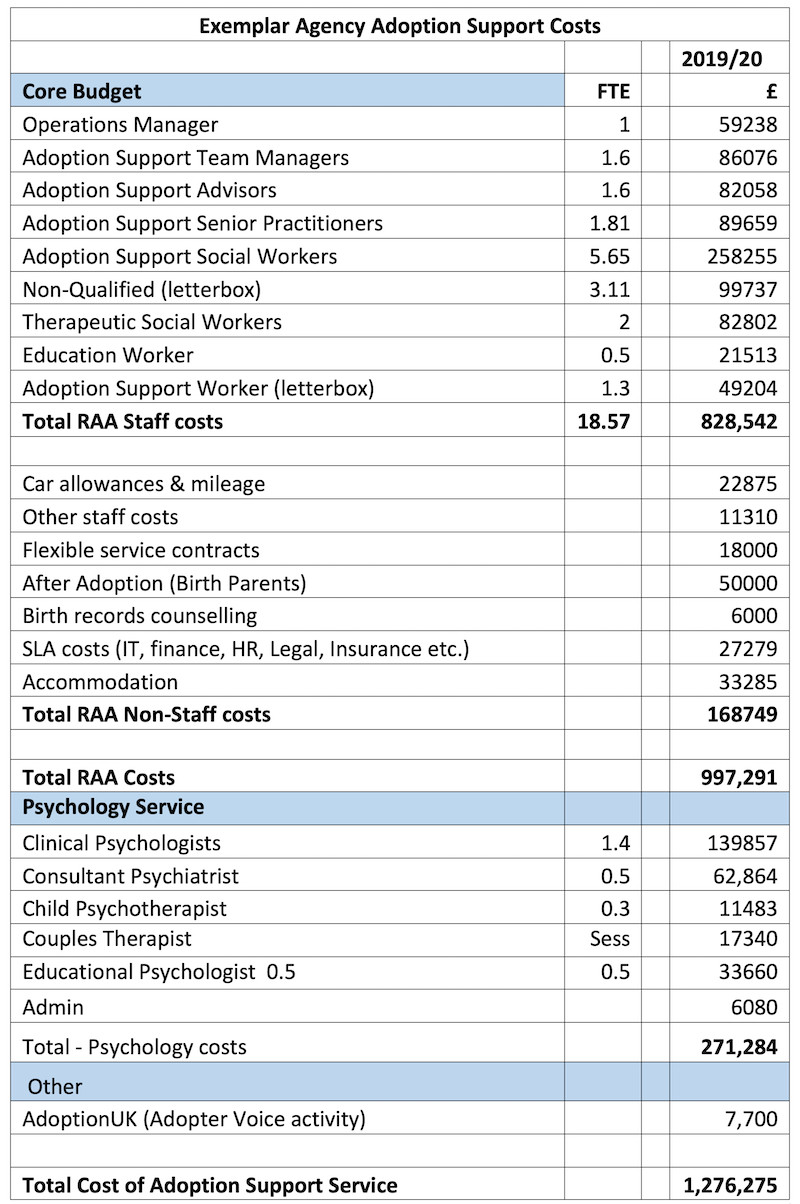 To put these figures into context:
At any one time in the previous year this agency had approximately 450 open adoption support cases and 200 referrals awaiting allocation.

It has reorganised its duty system to address this but estimates that it requires a further 2-3 FTE Social Workers in order to clear this backlog and to provide a timely response to all enquiries.

It also recognises that it does not currently facilitate enough peer-to-peer support and is seeking funding for a buddying/mentoring service.

Approximately a third of all cases were requests by adopted adults for access to records.

Over the financial year 2018-19, the agency successfully applied for approximately £850,000 of funding from the Adoption Support Fund which was spent on purchasing external services from the third sector.

The agency is on course to approve 91 adopters in the year 2018-19.
Comment
The example above illustrates that a multi-disciplinary service, providing psychiatric, clinical and educational psychology services and support to social workers and adopters, can be obtained for approximately £270k per year. Whilst evaluation of this service is still taking place, feedback from staff and adopters suggests that this has provided a step-change in the quality of provision. Given that this RAA covers five local authorities, this is perhaps not as expensive as some might have anticipated and a business case, based on subsequent cost avoidance, is not difficult to make across social care, health and education sectors.
However, this example also illustrates that if core adoption support resources are not sufficiently available from LAs/RAAs, any additional psychology support is likely to be less effective. A lack of social workers to undertake initial assessments means that, adopters wait longer for assessments and access to more specialist support when required. A balance between core social work provision and additional multi-professional/multi-agency resources is therefore important in improving effectiveness.