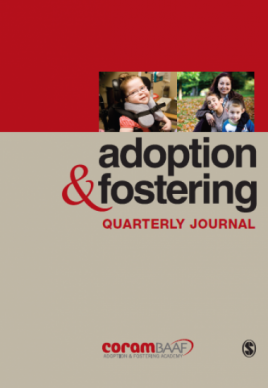 Adoption & Fostering journal goes online only
A big thank you to all readers who responded to our recent journal survey. We were delighted to find how much you all value the journal, with 94 per cent of respondents stating that they would recommend Adoption & Fostering to colleagues. Other positive findings were that 77 per cent believe the balance between articles from practitioners and more academic content is 'about right', and 60 per cent value the journal's international scope.
We were also pleased to discover that most respondents (63 per cent) prefer to read their copy online. This result, together with economic and environmental concerns, has led to our decision to make the journal available online only from March 2022.
Despite the widespread support, some respondents reported difficulties in gaining online access, especially via SAGE. The best route is via the Journal section of the CoramBAAF website. If you are a member and have not yet set up your web account, you can follow the simple instructions here. We will also be sending out regular alerts to let you know when a new journal edition is available, and highlighting contents and new developments.
The December journal is due online by the end of the year, with the last printed copy being distributed around the middle of January. Topics include: how the biographies and background characteristics of adoption and fostering panel members can influence recommendations; using the voices of children and young people to inform practice related to their educational experiences; the use of video feedback to promote positive parenting; and the role of communicative openness in post-adoption contact. Look out, too, for book reviews on CoramBAAF's series of pamphlets on Things Foster Carers Need to Know, Roger Bullock's tribute to Michael Rutter, and of course his editorial. This month, Roger offers some astute observations on the impact that past and present social and economic policies are having on children's services and whether an effective route to positive action might be in sight.