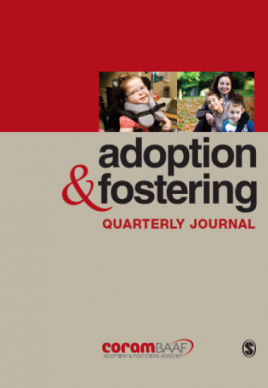 Adoption & Fostering moves online only
All members of CoramBAAF receive free access to Adoption & Fostering journal, the only quarterly peer-reviewed journal dedicated to adoption and fostering issues. Now in its 46th volume, the journal has moved to online only. It will still contain the same high quality content, including editorials, multidisciplinary articles, health notes, legal notes and abstracts, which will be available anywhere and anytime.
Accessing the journal online is simple and quick:
To access the current issue and browse all issues going back to 1977, visit the journal webpage and click through for member access. If you are not logged in, you will be prompted to enter your username and password and redirected to the Sage website.
The latest issue of the journal (Volume 46, Issue 1) will be available by the end of March.
For regular email updates on the journal, including notifications when new issues are released, please sign up to the CoramBAAF Publications ebulletin.
For further information or help with access, please contact the Journal Production Editor, victoria.walker@corambaaf.org.uk.