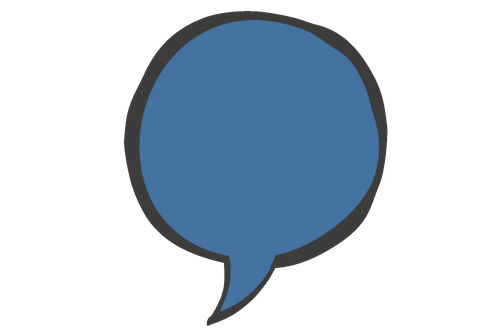 CoramBAAF's Louise Sims reflects on the Kinship and Story work webinar
Dr Mark Doel and Katie Wrench led our Kinship and Story Work webinar, held on 14 December 2020 as part of CoramBAAF's series of events to celebrate our 40th anniversary. We gave ourselves an inclusive remit with the title of the webinar, because kinship can encompass all types of family arrangements. The term story work also allowed us wriggle room. We asked attendees to bring a personal object which they could use as a starter to talk about themselves. CoramBAAF members responded to our invitation in the way we had hoped, with a wide range of attendees, including therapists, colleagues from academia and research backgrounds, from social work and social care, from adoption and fostering teams, and from specialist kinship teams.
 
In the first part of the webinar, Mark discussed his work: 'Objects and story work – the language of things'. Mark is a social worker, researcher and educator who is exploring how we can use objects to help us make sense of our experiences and tell our stories. Mark drew on his work with social work in 40 objects. One emotionally meaningful or charged object Mark introduced us to was a mouthpiece of a French horn which had belonged to a man called Simon. The mouthpiece had belonged to Simon's birth father. Father and son had re-established a relationship only weeks before the father (a talented musician) had died. On the night of his death, his flat had been burgled and the mouthpiece was one of the only things salvaged. The mouthpiece provided an important link for Simon to his birth father, and one with positive meanings – not loss and abandonment, but joyful music and talent. It had a symbolic meaning too – the mouthpiece had become separated from its parent object, the French horn, like Simon from his birth father. Simon also reflected on how social workers need to provide a mouthpiece, to advocate for the people with whom they work.
 
Bella, a dog living in a children's home in the 1950s, was "donated" by a woman who had herself grown up in care in the home. The dog gave her unconditional affection and love that were otherwise absent in her experience at the children's home. Mark introduced us to different categories of objects –lost and found objects, transitional objects, created objects, charged objects, and metaphorical objects. He referenced Harriet Ward's (2011) work in which she highlighted the significance of "things" – possessions, belongings, etc – that play a role in maintaining worth, value and consistency in the lives of children and young people who have experienced major life changes. He reminded us that the continuity of ownership of "things" is taken for granted by people whose lives are stable, and that we must ensure that children in care are not neglected in this respect. Mark also linked his work with other social work practice initiatives which are using objects to build emotional and social literacy in children, families and social workers such as Kitbag.
 
We then met in small groups and used our own personal objects to talk to each other about ourselves and our practice. In my group, we talked about the ways in which objects can bring to mind sibling rivalry. Two of us shared experiences of a sibling breaking a precious object from childhood. In the wider group, attendees shared practice and personal experiences. One person had brought a 50-year-old small artificial Christmas tree that had been passed down in her family; another had a clock that her grandparents had brought with them from 1930s Germany when they fled the Nazis. In only 15 minutes, we shared stories that probably would not have emerged without the objects as catalysts. We wondered too about what a shift to story work and a focus on narratives (rather than "assessment") might contribute to our relationships with children and families.
 
In Katie's presentation, we saw how transformative the practice relationship can be. Katie is a registered social worker, art therapist, trainer and educator living and working in West Yorkshire – as well as being a parent and kinship carer. Katie shared a video of herself in conversation with Annie, a kinship carer who had adopted her nephew. Annie talked about the importance of "Big Dog", a cuddly toy that her son had when he came to live with her and her husband at the age of four. Annie felt that Big Dog had come to represent the positive aspects of her son's birth father (her brother-in-law). Big Dog was still a precious toy six years later. In the video, Annie and Katie talked about their work together over the years. Annie acknowledged that it was through Katie's support, encouragement and persistence that the family were able to address the issues that they needed to consider. Their family had been constructed around a secret – their son did not know that they were related to his birth father. Annie and her husband needed support to understand their own feelings of shame and anger, and without this reckoning they would have all been "stuck". Instead, through working together (and with the help of Big Dog), they developed a story that gave them coherence as a family – both the positive and negative aspects.
 
After our webinar, I met with Katie to talk about her work. She told me of her connection with Tony and Richard (who have published work on the subject), through all working together in Leeds. Katie felt that this lineage was really important, and that she was proud to be doing the work she does – but also about her frustration that story work is too often reduced to the production of a book or other product, which can become a way of avoiding the "real" work. She described her work with Sarah, a teenage girl who lived in foster care. The sexual abuse that had been part of her childhood had not been spoken about previously, and Sarah's carers wanted Katie to help them talk with Sarah. Katie described feeling terrified of being the person to broach the subject. Sarah was doing so well – would this work destabilise her? Katie vividly recalled talking to Sarah about the abuse and her astonishment at Sarah's reaction, which had been to weep with relief. For as long as Sarah could remember, she had experienced intrusive dreams that had left her feeling helpless, without hope and alone. Sarah now had a framework for understanding herself – and perhaps most importantly, understanding that she was not alone. The adults around her showed that they could bear her pain alongside her.
Annie and Katie in their work together show us that it is possible, and necessary, to engage directly with information and knowledge that challenges us.
Louise Sims
Kinship Care and Fostering consultant, CoramBAAF