Adoption & Fostering is the only quarterly peer-reviewed journal dedicated to adoption, fostering and kinship issues. Over the years, it has gained an international reputation as one of the world's leading sources of knowledge for academics, practitioners and all those concerned with childcare practice and research.
Edited by Dr Dennis Golm, Adoption & Fostering is published by SAGE on behalf of the CoramBAAF Adoption & Fostering Academy.
Volume 47 (Issue 3, October 2023)
Special Edition: The digital turn in child and family social work: Challenges, opportunities and imagined futures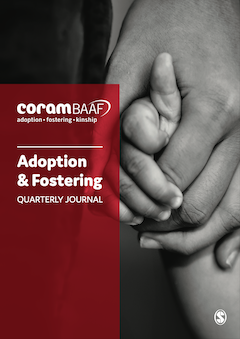 Editorial
The changing digital landscape for looked after children
Guest Editors: Joanne Westwood, Jennifer E Simpson, Cath Larkins
Articles
Biases, concerns and the erosion of rights: Addressing digital issues with adopted and fostered children in a policy vacuum
Andy Phippen, Emma Bond
Selfies, Snapchat and keeping safe: Impressions of social media and cyberbullying from looked after children and young people with care experience in Wales
Cindy Corliss
'I probably wouldn't want to talk about anything too personal': A qualitative exploration of how issues of privacy, confidentiality and surveillance in the home impact on access and engagement with online services and spaces for care-experienced young people
Lorna Stabler, Emily Cunningham, Dawn Mannay, Maria Boffey, Aimee Cummings
Mapping the digitalisation of child adoption in India: Challenges and future possibilities
Sahana Mitra, Saraswathi Bhaskar, Matthias Bode
Forming a new and unexpected relationship through digital technologies: Lessons for child and family social work
Viviene E Cree, Robert MacKenzie
We can connect: Imagining the future of digital practice with and by care-experienced children and young people
Cath Larkins, Deborah Crook, Zoe O'Riordan, Helen Casey, Lynn Froggett, Ismail Karolina, Nicola Farrelly
Research Article
The rapid development of a virtual Children's Hearings System in Scotland: A realist-inspired synthesis assessing the impact of the Covid-19 pandemic on the participation and rights of children
Catherine Nixon, Indiya Kurlus, Melissa Hunt, Kirsty Deacon, Sarah McGarrol, Donald Lamb, Helen Etchells, Lorna McNaughton, Gillian Henderson
CoramBAAF Members also have free access to the following journals.
Qualitative Social Work
Qualitative Social Work provides a forum for those interested in qualitative research and evaluation and in qualitative approaches to practice.
MEMBER ACCESS TO QUALITATIVE SOCIAL WORK