You asked, we delivered!
Member feedback has suggested that we deliver our books in more formats for easier accessibility. We offer a range of our Good Practice Guides, pamphlet series and much more available in digital only format via our eBookstore. The eBookstore is updated regularly with key titles about adoption, fostering and kinship care.
Creating your eBookstore account
You can browse our eBookstore library without an account. However, to read any of the titles in our library you will need to create an eBookstore account.
Find out more
Accessing your member books
As part of your organisation's membership, you can access selected titles for free using your unique access code via the CoramBAAF eBookstore.
Find out more
Using a coupon code
To redeem your coupon code (to receive a discount or free access to titles in our library) you must sign in to your account. Your eBookstore account is your private library that only you will access using your personal log in details.
Find out more
New in our eBookstore
Practice Note | Unlawful placements in kinship care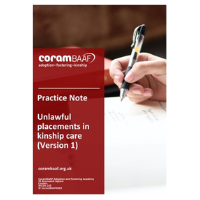 In many situations, the reality of the placement becoming unlawful speaks more to the limitations of the regulations themselves, than whether the placement is the best place for a child to live. In an effort to help practitioners navigate these challenges, we have published the following a practice note.
Members, sign in to your website account to download for free.
Completing a child's permanence report

This guide is designed to help social workers to manage and complete a comprehensive and evidence-based permanence report for a looked after child. It is to be used by assessing social workers to complete a Child's Permanence Report using the CoramBAAF Form CPR (for England).
Adoption for looked after children: messages from research
The Adoption Research Initiative was a Government-funded programme to explore the effects of the Adoption and Children Act 2002. Seven large and complex studies considered a range of areas, including adoption, disruption, long-term fostering, and matching practices. This summary brings together and analyses the results of all seven studies. 
Growing up in foster care
Long-term foster care is rarely mentioned as a positive option; yet, for a significant group of vulnerable children, growing up in a long-term foster family is their best chance of a secure family life. This research study provides a fascinating insight into the experiences of 58 children, their foster carers, a sample of their birth parents and their social workers.
Looking after unaccompanied asylum seeking and refugee children
There is a lack of awareness and an inconsistent approach across the country to caring for asylum-seeking and refugee children, partly because the arrival of these children is often seen as a temporary issue that does not require longer-term planning, training and investment. But these are children in need, and local authorities are required to identify their needs and to provide services to meet them.