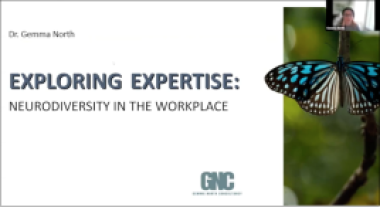 Neurodiversity in the workplace
Dr Gemma North explores neurodiversity in the context of social work employment. A lack of awareness and about neurodiversity in social work settings can lead to insufficient support for neurodivergent employees. Knowledge and awareness about aspects of neurodiversity including Autism, Tourette's Syndrome, Dyslexia, Dyscalculia and ADHD must increase in order for workplaces to be meaningfully inclusive.
Watch again
Meeting the needs of neurodivergent children and young people
The term neurodiversity enables us to talk about difference in a strength-based way thereby focusing on what makes neurodivergent people unique. Dr Gemma North outlines the importance of acknowledging and supporting care experienced children and young people.
Read the blog
Journal articles on neurodiversity
The following articles from the Adoption & Fostering Journal archive record the developments and challenges of neurodivergence in the child care sector over the last decade:
Heady, N., Watkins, A., John, A., & Hutchings, H. (2022). The challenges that social care services face in relation to looked after children with neurodevelopmental disorders: A unique insight from a social worker perspective. 
Balcaen, L., Santos, R., Roger, K., & Mignone, J. (2021). Families with fetal alcohol spectrum disorders: Exploring adoptive parents' experiences of family well-being.
Sign in to your website account to access:
Gerin, M. I., Hanson, E., Viding, E., & McCrory, E. J. (2019). A review of childhood maltreatment, latent vulnerability and the brain: implications for clinical practice and prevention.
(Health Notes, Volume 39 Issue 3, October 2015). The problems of making a diagnosis of FAS/FASD in the neonatal period.