From Sunday 13 - Monday 19 November it is Transgender Awareness Week. The week of campaigning for trans rights and facing the issues the trans community face builds up to in an international Transgender Day of Remembrance on November 20, 2023. 
The Transgender Day of Remembrance is a day to shine a light on the results of transphobic violence and the issues inflicted on the trans population. It is a day for members of the community and allies to pay their respects to those who have died due to global transphobia and violence.  
In support of trans people, we wanted to share the resources that we have that are relevant to our members and the people they care for. We will continue to develop resources and information for our members. If you have any suggestions of materials you would like to see, please email info@corambaaf.org.uk. 
---
Practice Note 69. Assessing and supporting transgender foster carers and adopters
This Practice Note has been written to assist practitioners who are assessing transgender applicants in the UK who wish to foster or adopt, and to help fostering services and adoption agencies to work in a way that encourages and values applications from this group of people. It covers recruitment and preparation; assessment; the panel process; post-approval support; and policy and procedures. 
Key points include:
Use non-binary language in recruitment materials to avoid gender stereotyping.
Respect applicants' preferred pronouns and privacy.
Value and accept rather than merely tolerate a person's transgender status.
Understand the impact of oppression on transgender applicants' lives.
Available for FREE to all CoramBAAF members. Click here to find out more about becoming a member.
---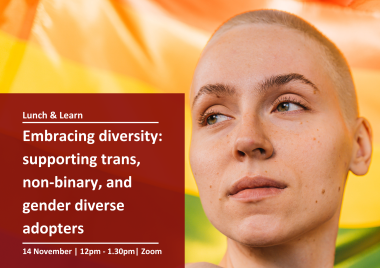 Embracing diversity: supporting trans, non-binary, and gender diverse adopters
As LGBTQ+ people are an ever-increasing proportion of adopters, it's crucial that adoption agencies and professionals adapt to the diverse needs and identities of prospective adoptive parents. New Family Social is the UK's peer support charity for LGBTQ+ adopters, foster carers, and special guardians. Their presentation shone a light on the unique challenges and opportunities that trans, non-binary and gender diverse people experience within the adoption process. The session equipped adoption professionals with the knowledge and tools necessary to create an inclusive and supportive environment.
Recording available
---
Adoption & Fostering journal articles
'A little piece of my heart goes with each of them': Foster carer reflections on current fostering practice
In the UK, fostering is the principal way of looking after children in care. Foster carers have been reported to be motivated to undertake this task by an intrinsic desire to nurture and improve the lives of young people. However, the work faces numerous challenges, especially with regard to relationships with other professionals involved in children's lives and a lack of support for young people with complex needs. Allegations made against carers also increase the potential for carer stress and an exit from fostering. This article reports the findings from an online survey of 422 foster carers in England, complemented by eight in-depth interviews.
The majority (352 or 83%) of participants were female, with 66 (16%) male, one female-to-male transgender and three who preferred not to say. In addition, 282 (67%) were married, 89 (21%) were single, 41 (10%) lived with a partner, eight preferred not to say and two were in a civil partnership. Twelve respondents (3%) were members of the lesbian, gay, bisexual and transgender (LGBT) community, and 18 reported having a disability. Nearly half of all respondents were aged 51 to 60 and the majority (377 or 89%) were White British.
Sign in first, so you can read the article
The birth certificate, 'father unknown' and adoption
This article explores the neglected subject of birth certificates, their meaning and value. The author makes a case for enhanced attention to the birth certificate in general but especially in cases where information about the father has not been entered. It is argued that rather than 'father unknown' being recorded, 'father unregistered' would be invariably more accurate. The conclusion addresses policy and practice implications for the various professions involved during the birth and registration process and also for children and family and adoption practitioners.
"For transgender activists, the ability to re-designate the birth certificate's record of gender is a goal".
Sign in first, so you can read the article
---
External organisations and resources
Advertisement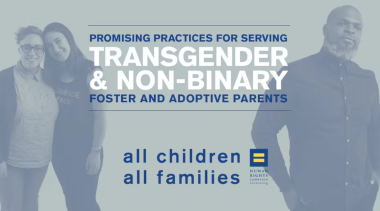 All Children - All Families: Serving Transgender & Non-Binary Foster & Adoptive Parents
This guide is intended for a range of audiences inside child welfare agencies and arranged by key areas of need. You can read from front-to-back or jump to specific sections addressing current challenges.
Find out more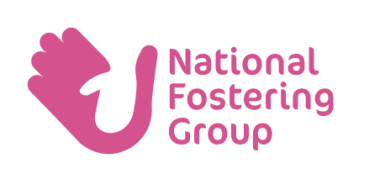 How to Support and Care for a Transgender Child
If you currently look after a child or young person who is struggling with gender dysphoria, or you simply want to learn more about how to approach issues of gender, this guide to supporting and caring for a transgender child can help you provide positive support.
Find out more
Advertisement

Raise a mug for Mermaids this November
If your organisation is dedicated to promoting inclusion, Raise a Mug for Mermaids is an easy, fun way to start positive conversations about gender diversity in your workplace. Get together with colleagues to share some cake, have a cuppa, and raise vital funds to help transgender, non-binary and gender-diverse children be themselves and thrive. Every pound raised will ensure we can continue to reduce loneliness, provide support, and advocate for young people and their families.
Sign up here