Our kinship care consultants develop a range of practice notes, briefings and other resources to support our members in special guardianship, private fostering, kinship foster care and other care plans involving family members and friends. They also support the exchange of ideas and good practice at our practice forums.
Advertisement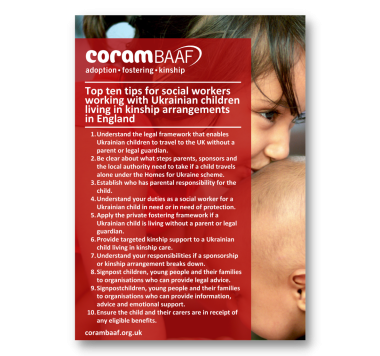 Top ten tips for social workers working with Ukrainian children
For those wanting a summary about how they can support Ukrainian children in kinship care families read our top ten tips!

This is a condensed version of our 'Frequently Asked Questions' resource,- we have included the headlines and key points from our longer document to offer a shorter and accessible version as an introduction to the topic.
Read more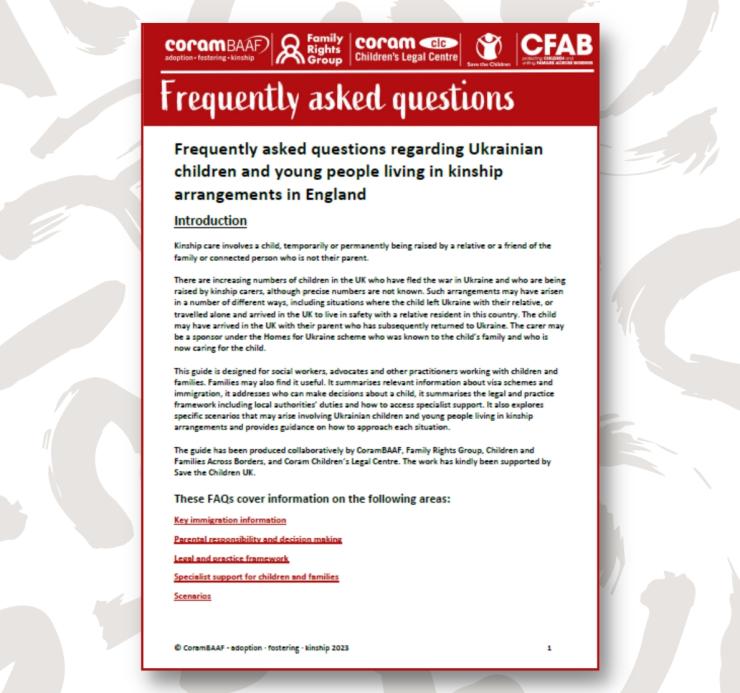 Supporting kinship carers of Ukrainian refugee children
We have produced a set of comprehensive FAQs to help professionals navigate the tricky interface between social care and immigration law. We will also produce more easily accessible resources over the next few months so keep an eye out for more materials coming your way.
Read our FAQs
The return of 26 weeks: what this means for the assessment of prospective kinship carers
The re-launch of the Public Law Outline is a timely reminder of the need to allow sufficient time for kinship assessment work. In this CoramBAAF Statement, Ann Horne, Kinship Consultant reminds us of best practice guidance and the need for 12 week timescales, when assessing prospective kinship carers.
Read our statement
---
Get involved
Our multidisciplinary groups and provide a platform to our members so we can advocate on their behalf to Government, and ensure that their voices are heard in the development of legislation, policy and practice.
Kinship Care Practice Forum
Discuss developing areas of policy and share views at our Kinship Care Practice Forum.


Find out more
Private Fostering Practice Forum
Discuss developing policy and practice dilemmas in Private Fostering arrangements.
Find out more