Our kinship care consultants develop a range of practice notes, briefings and other resources to support our members in special guardianship, private fostering, family and friends foster care and other care plans involving family members and friends. They also support the exchange of ideas and good practice at our special interest groups.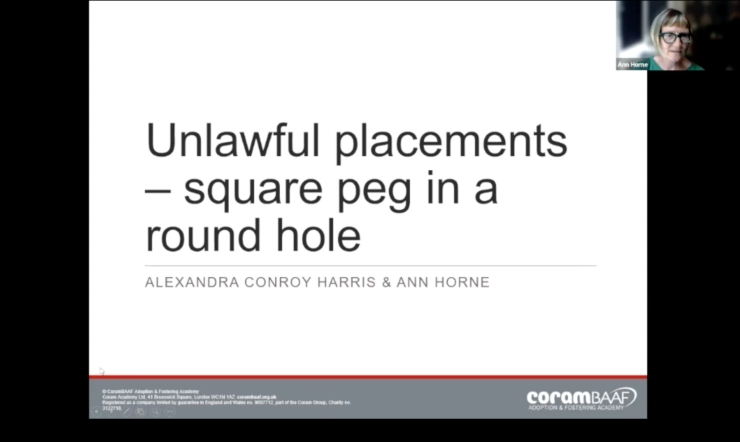 Exploring Expertise: Unlawful placements - square peg in a round hole
In this webinar, Alexandra Conroy-Harris, Legal Consultant and Ann Horne, Kinship Consultant at CoramBAAF explore the legal and regulatory framework that can result in unregulated placements, possible legal solutions, and reflect on best practice around approval of kinship foster carers in the context of National Minimum Standards.
Watch again
New Beginnings – The inaugural meeting of the Advisory Committee for Kinship Care
Clare Seth, CoramBAAF's Kinship Care consultant celebrates the first meeting of CoramBAAF's new Advisory Committee for Kinship Care. She highlights the key areas covered and what the committee plans to focus on in future.
Read more
Kinship care matters - unlocking the potential of family networks
Ann Horne, CoramBAAF's Kinship Care consultant, reflects on some of the recommendations made in the Independent Review of Social Care and welcomes the spotlight that is being shone on kinship care.
Read more
Get involved
Our multidisciplinary groups and provide a platform to our members so we can advocate on their behalf to Government, and ensure that their voices are heard in the development of legislation, policy and practice.
Kinship care forum
Discuss developing areas of policy and share views at our Kinship care forum.


Find out more
Private Fostering Group
Share developing policy, good practice and practice dilemmas in Private Fostering arrangements.
Find out more