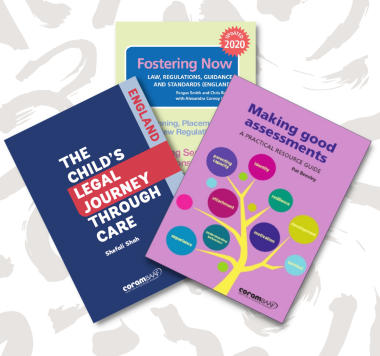 Fostering starter pack
To help newly qualified social workers, or those that want to refresh their knowledge, we have created a fostering starter pack. Get Fostering Now, Making good assessments, and The child's legal journey through care for £30 (usually £45.90).
Find out more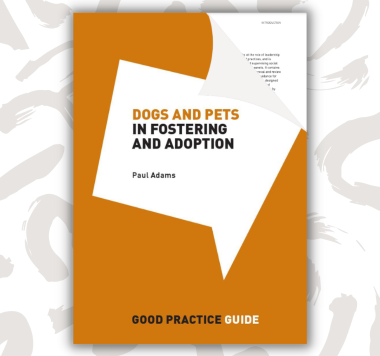 Editor's Exclusive
Every month we release a free chapter from one of our bestselling publications. For December, we are sharing the third chapter from our 'Dogs and pets in fostering and adoption' Good Practice Guide. Read our chapter on 'Advantages and disadvantages of keeping dogs and pets'.
Download now
Chairing fostering and adoption panels
17 January | 10am - 4pm | Zoom
This course will explore general planning for and facilitation of panels and complex meetings in the children's sector. It will explore time management and group facilitation whilst holding the child at the centre of thinking, recommendations and decision-making.
Book here
Fostering assessments (Form F) – Best practice - two day course
24 & 25 January | 10am - 4pm | Zoom
This two-day course will provide practitioners particularly those who may be new to undertaking, quality assuring or considering fostering assessments with an opportunity to develop knowledge, skills and practice in completing fostering assessments.
Find out more
The role of the supervising social worker: Supervising and supporting foster carers
5 February | 10am - 4pm | Zoom
The role of the supervising social worker has many facets, involving managerial, supervisory, educative and support functions. This course allows supervising social workers to develop their practice and confidence in these areas.
Find out more
Foster carers making their voices heard – we should listen
James Bury reflects on his visit to number 10 Downing Street. He attended a reception, along with Emma Fincham and our Foster Carers Advisory Committee, to celebrate the work of foster carers from across the country.
Read more
The diary of a Fostering Consultant during Foster Care Fortnight
Emma Fincham shares what she has been up to throughout Foster Care Fortnight. The past two weeks have provided many occasions for celebration in addition to bringing into sharp focus some of the dilemmas foster carers face.
Read more
Rising costs of caring risks the stability of children and young people in care
The cost of living crisis is affecting children and young people across the UK. Emma Fincham, our Fostering Consultant, considers how this directly impacts children and young people in foster families. She argues that we need to think about both the retention and the recruitment of foster carers.
Read more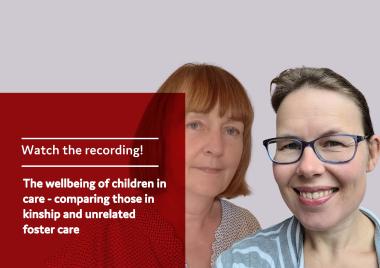 The wellbeing of children in care - comparing those in kinship and unrelated foster care
The Bright Spots Programme supports local authorities to systematically listen to their children in care and care leavers, about the things that are important to them. The presentation takes data from the programme and examines the views of over 1,200 children.
Watch again
Advertisement
Making long-term foster care a positive permanence option - Messages from 25 years of research
This webinar was presented by Gillian Schofield and Birgit Larsson. It explored and assessed their research on long-term foster care as a permanence option, including this most recent study.
Sign in to watch
Fostering practice forums
Share professional practice, knowledge and expertise in fostering with colleagues in your local region including groups dedicated to Private and Independent Fostering.
Find out more