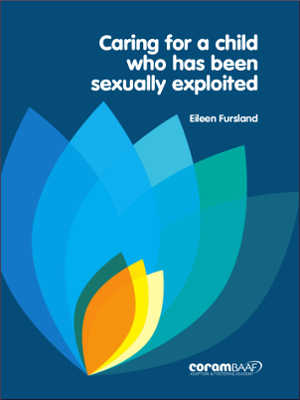 Caring for a child who has been sexually exploited
£12.95
Child sexual exploitation (CSE) is a particular type of sexual violence towards young people, both girls and boys. It is an abhorrent crime that wrecks young lives. Recent inquiries and reports have shone a spotlight on different types of CSE and our knowledge and understanding of the complex nature of CSE have deepened. 
How can vulnerable young people affected by CSE be supported and safeguarded? They have been enticed, manipulated, threatened, hurt and terrified by their abusers. How can carers form a protective relationship with a young person? How can they help build trust and keep a young person safe, both in placement but also online? And how can they help them recover from their traumatic experiences and start to rebuild their lives?
Who is this book for?
All those who care for, look after or work with young people in foster or residential care and who have been sexually exploited.
What you will find in this book
This comprehensive and accessible handbook will enable you to:
• gain knowledge of CSE, what it is and how perpetrators groom their victims;
• identify risk factors and vulnerabilities and spot the signs of CSE;
• learn how cases come to light and the response from agencies;
• understand the criminal justice system and how to support children through court;
• understand the impact of CSE on victims and their families;
• support CSE survivors, help them recover and keep them safe.
The book draws on research in this area, describes innovative practice and projects, and tells the stories of some young people whose lives have been turned around by positive interventions. It is a must-read for anyone caring for a child affected by, or at risk of, CSE.
Author
Eileen Fursland  is a freelance writer who has written several titles for CoramBAAF. She also designs and delivers training sessions to help foster carers, adopters and social workers to meet the challenges posed by social networking.