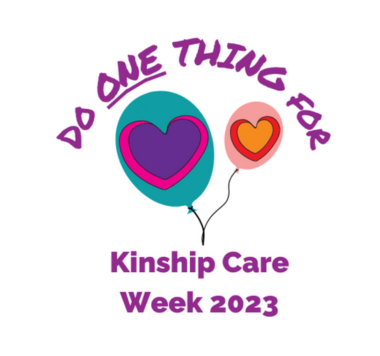 #DoOneThing | Five suggestions for Kinship Care Week
Kinship care has received welcome attention over the last year, both from the government and in the media. However, we need to keep raising awareness. Kinship Care Week (2 – 8 October 2023) provides a co-ordinated opportunity for local authorities and other organisations to #DoOneThing to keep the spotlight on kinship care, the carers and the children they look after.
Here are some of our ideas for ways to #DoOneThing:
Send an extra newsletter to all kinship carers in your area, thanking them for all that they do. It's an opportunity to highlight the training and support that you offer as well as signposting them to other organisations such as Kinship and Family Rights Group.
Arrange an extra support group or tea party. We know how much kinship carers value the support of their peers.
Highlight the #DoOneThing campaign on your social media channels and share what you're doing. You can use the resources developed by Kinship to help promote the campaign
Ask senior leaders and your principle social worker to get involved – for example, they could drop into the support group, write directly to kinship carers or contribute to the newsletter.
Use Kinship Care Week as a launchpad for updating written information for prospective kinship carers.
We will be sharing more tips and resources during the week. Head over to our Kinship Care Week page for more details.