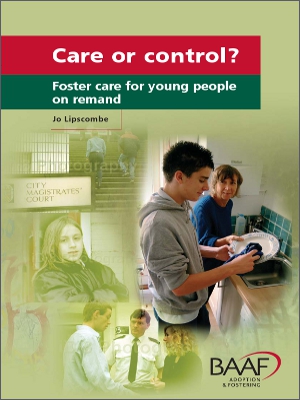 Care or control?
£12.95
Since the early 1990s, the number of children and young people remanded to custody has more than doubled and continues to increase. This timely study explores the use of foster care as an alternative to custodial and residential accommodation for young people on remand.
The study focuses on a remand fostering scheme in the south of England, and is based on detailed interviews with young people who have been remanded to foster care, remand foster carers and lay youth court magistrates.
It considers the processes by which young people become involved in offending behaviour, how this behaviour can be exacerbated by involvement with the penal system, and how community interventions like remand foster care can have a positive impact on a young person's behaviour and sense of identity.
The findings of this challenging study of what is often a politically contentious issue have implications for all those working in the youth justice system.
Who is this book for?
Professionals working with young people in both the criminal justice system and care system, policy makers, politicians and decision makers in this field.
What you will find in this book
The study explores:
The current system and the use of remand foster care
The theoretical and political background to this field
Community alternatives to remand for young people
The characteristics of young people on remand
Interviews with magistrates
Young people's experiences of remand foster care
Foster carers' experiences of providing care for young people on remand
Policy implications of the study for those working in this field
Author
Jo Lipscombe is an independent criminal justice consultant, with particular expertise with children and young people and youth justice. She is an honorary research fellow at the School for Policy Studies, University of Bristol.
Reviews
The investigation is well-crafted and represents a valuable and stimulating addition to what remains an under-researched field. As such, it should be a 'recommended read' for practitioners and policy makers in both child care and youth justice.
Derek Kirton, Lecturer in Social Policy and Social Work, University of Kent, British Journal of Social Work
It provides a very interesting account of views from many sides of the situations. I like the case study sections – it gives first-hand experience for other people to consider. I presume this book would be aimed at social workers and CAFCASS workers and I think it does a fantastic job of giving information needed at the level of understanding required. I have found this book incredibly interesting to read. I do think that it would be an invaluable resource and reference point for someone working on a remand case.
Sarah Woodhead, Young People's Board
I think that Jo Lipscombe brings up some very important points about children's past experiences. I believe that this book would be a good resource for information when dealing with similar situations.
Rachael Shakesby, Young People's Board