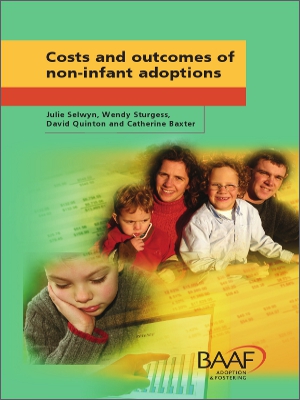 Costs and outcomes of non-infant adoptions
£12.95
Many adopted children are placed with adoptive families after infancy, following very poor early parenting experiences. However, there has been surprisingly little research undertaken on the outcomes for these children, the financial and emotional costs to adopters, or the costs to children's services.
This book reports on the findings of a study of 130 children from one area in England for whom a best interests decision for adoption was made in the 1990s. The study follows what happened to the children, to see for how many adoption was secured, and to track their progress through the care system. The study examined the children's early lives, the decisions made about them, and the costs and delays in this process. Adopters and foster carers give their accounts of caring for the children, the financial and emotional costs to them and the support they received.
This study provides a unique opportunity to compare the outcomes for fostered and adopted children and to make recommendations for policy and practice.
Who is this book for?
Social work practitioners, managers and policy makers working in both adoption and fostering.
What you will find in this book
The study explores:
Life for the children in their birth families
Support, decision making and the children's development
The best interests decision
Life for the children in their adoptive families
Support for the adoptive placements
Outcomes for the children
The costs of adoption
Adoptive and foster care outcomes compared
Lives and outcomes of the "unstable care career" children
Policy and practice implications
Authors
Julie Selwyn is Director of the Hadley Centre for Adoption and Foster Care Studies, in the School for Policy Studies at the University of Bristol. She has researched and published widely on adoption and fostering.
David Quinton is Emeritus Professor of Psychosocial Development at the University of Bristol. His interest is in continuities and discontinuities in social adaptation, especially following poor parenting experiences.
Wendy Sturgess was a research associate at the School for Policy Studies, University of Bristol, for the duration of this research study.
Catherine Baxter is a research fellow in the Social Policy Research Unit at the University of York, and has undertaken research on choice and independence across the life course.
Reviews
This is an important book for a wide range of people: social workers and their managers, adoption panel members, those determining budgets within local authorities, as well as policy-makers. British Journal of Social Work, Lorna Durrani, Social Worker, East Kent Concurrency Team, Kent Social Services This is another excellent resource from BAAF, and is to be recommended to all practitioners, managers and policy makers concerned with ensuring cost-effective and successful placement outcomes for children, as well as their foster-carers and adopters.
Elizabeth Monck, Child and Family Social Work Volume 12