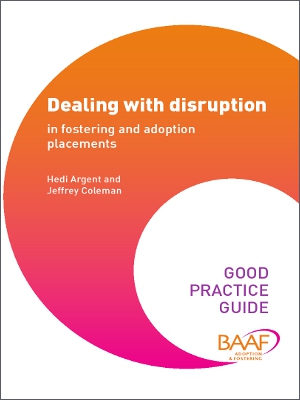 Dealing with disruption
This guide is currently out of stock while we work on a new edition. CoramBAAF members can temporarily download a FREE PDF version of the 2012 edition from the members' area.
Which factors lead to disruption? When does a cry for help become a plea for closure? How can we prepare for disruption and manage this painful transition for children and families? And finally, how can we learn from disruption and move on to make better plans and placements for children?
While adoption outcomes for children placed young are very good, and for later placed children still very much "worth the risk", it is not possible to get the match of child and new family right every time; inevitably some placements will disrupt. But disruptions do not happen overnight. There is usually a process leading to disruption, even if it happens at an early stage or during introductions. If carers and workers together can devise an early warning system a final crisis may be averted.
This Good Practice Guide considers various aspects of disruption in both fostering and adoption placements and is an important tool for those involved in making permanent placements for children.
Who is this book for?
All professionals involved in making permanent placements for children.
What you will find in this book
 This guide will offer professionals:
an overview of what research tells us
an insight into the factors that commonly lead to disruption
advice on managing and chairing disruption meetings
a consideration of alternative models
an exploration of the impact of disruption on all concerned
best practice guidance on moving on from disruption
Case studies are used throughout to illustrate the points made and useful appendices include a sample of a disruption report.
Authors
Hedi Argent is an independent adoption consultant, trainer and freelance writer. She has authored several books for CoramBAAF.
Jeffrey Coleman was the Director of Southern England region for BAAF for a number of years, with a background in social work.
Sorry, but this product is currently out of stock.
Reviews
A comprehensive book, the layout is clear and the case examples pertinent. The text is both purposeful and sensitive.  There are many things I like about this book: The detailed information on preparing for, undertaking, and writing up a disruption meeting; the comprehensive chapter on the impact of disruption for all involved. The appendices also contain excellent information e.g. an example of a disruption report. This book is highly recommended.
Dr Cas O'Neill, Research Fellow, School of Social Work, University of Melbourne. Children Australia