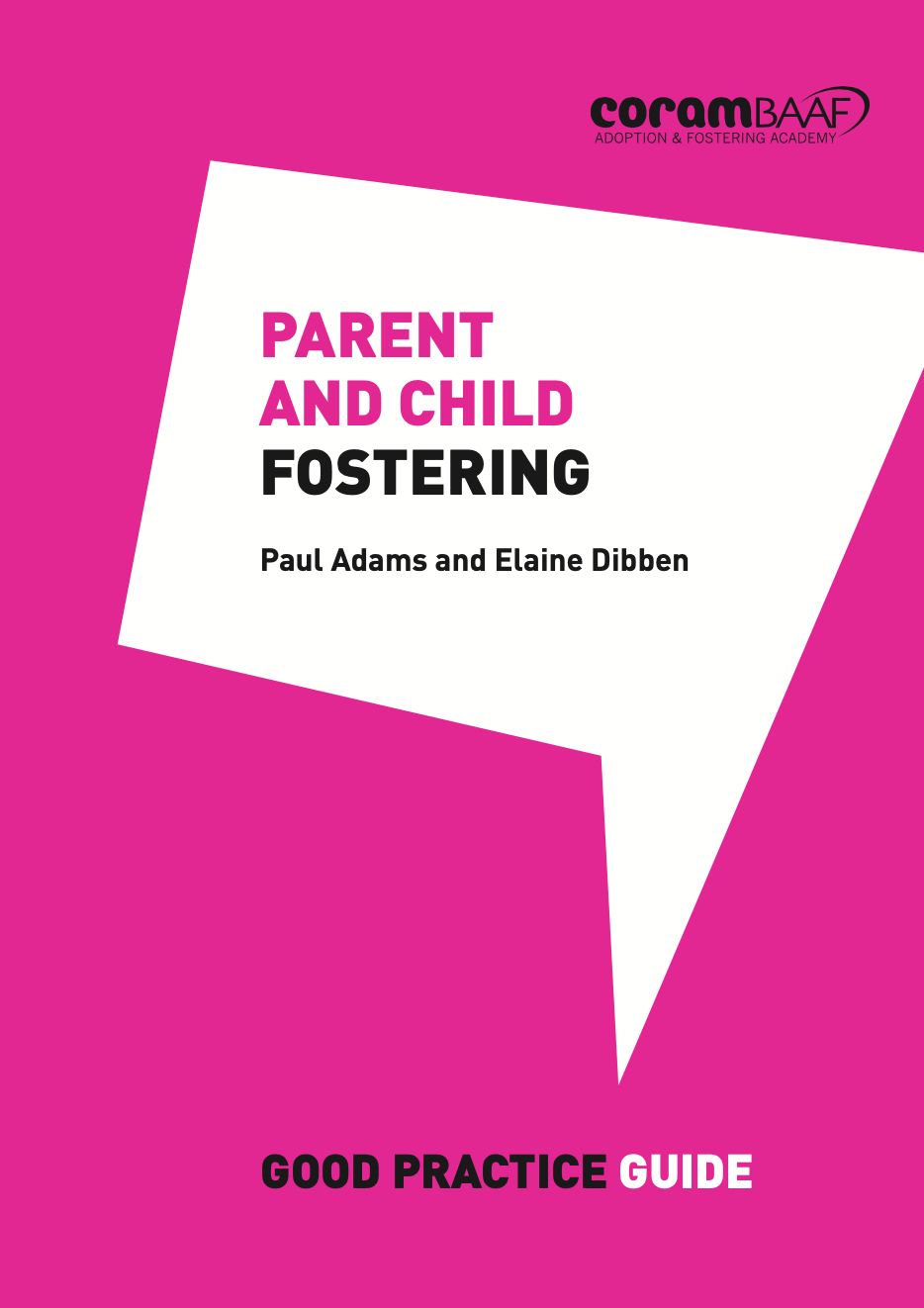 Parent and child fostering
£19.95
Parent and child arrangements with foster carers are a well-established phenomenon in England and Wales; less so in Scotland and Northern Ireland. In the majority of cases, this means adults with their children living with foster carers, usually in the context of care proceedings. This is a specialist area of work characterised by the uniqueness of having adult parents in the foster home. 
This brings new challenges to fostering services that are at different stages in their development of provision for making parent and child arrangements. The issues are not straightforward, and best practice requires them to consider how this particular type of fostering differs from traditional fostering in each respect, from approval, through matching to support and training.
Read our Editor's Exclusive
Every month we release a free chapter from one of our bestselling publications. For November, we are sharing the second chapter from our Parent and child fostering Good Practice Guide. Read our chapter on 'Messages from research'.
Who is this book for?
This guide is ideal for all local authority and independent fostering service social workers and managers who are involved with parent and child fostering, or who are considering offering such a service.
What you will find in this book
The new edition of this pioneering guide is fully updated and revised, with significant new material that takes into account innovations in good practice over the last decade. It includes information on:
The legal context of parent and child arrangements
Messages from research and serious case reviews
Types of parent and child fostering
Assessment and approval
Training and supporting foster carers
Care planning and placement planning
Developing policies and procedures
It is amply illustrated with case examples of good practice from local authority fostering services as well as the independent sector. It also includes a helpful set of assessment and matching forms that can be used by fostering services in their parent and child fostering cases. Please note that the forms can also be purchased as a separate electronic document for unlimited future use.
This unique guide offers invaluable advice, information and practical suggestions on how to deliver a good quality parent and child fostering service.
Authors
Paul Adams is CoramBAAF's Fostering Development Consultant, and an experienced Chair of fostering and adoption panels. He has authored Good Practice Guides on a range of subjects, and has developed Form C (Connected Persons), Form FR (Fostering Reviews), and considerably revised Form F (Fostering Assessments).
Elaine Dibben is CoramBAAF's Adoption Development Consultant, and has over 30 years' experience in fostering and adoption. She has written a number of Good Practice Guides, including Adoption by Foster Carers (with Viv Howorth), and The Role of Fostering for Adoption in Achieving Early Permanence for Children (with Viv Howorth).
NOW AVAILABLE AS AN EBOOK!
This title is now available in digital-only format for immediate access. Purchases are held in your own personalised online library and accessed via your browser or through the app on your phone or tablet.
£19.95
Reviews
An excellent resource, bringing together advice and good practice on parent and child fostering arrangements. It should be an invaluable tool for local authorities and fostering agencies developing parent and child services and is a wonderful example of the sector coming together to address practice issues and promote excellence.
Tim Loughton MP, Parliamentary Under Secretary of State for Children and Families (2010-2012)
It is useful as an introduction to parent and child fostering in the UK and also as a framework for managers and practitioners in developing and implementing parent and child fostering services. The authors should be commended for pulling together practice that is still very much varied into a coherent format.
Dinithi Wijedasa, Research Associate, Hadley Centre for Adoption and Foster Care Studies, University of Bristol, Child & Family Social Work