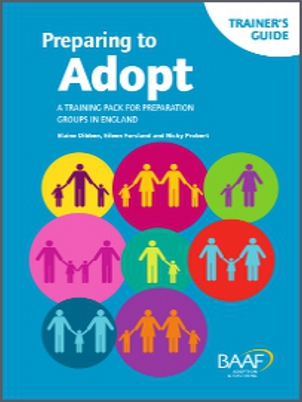 Preparing to adopt - England
£60.00
Preparing to adopt is a well-established and highly respected training resource which enables agencies to offer relevant, high quality and comprehensive preparation for people who wish to adopt.
Preparing to adopt provides agencies with an agreed common curriculum for preparation courses. The format allows applicants and agency staff to make practical use of the learning during the whole assessment process.
Full of useful information, imaginative exercises, insightful articles and first-hand personal accounts from adopters as well as adopted children and young people, the pack is an accessible, appropriate and easy to use resource that provides an inclusive and comprehensive approach to the preparation process. The Trainer's guide includes a DVD containing film clips and a CD-ROM containing a PowerPoint presentation and hand-outs.
The programme will enable prospective adopters to:
Have sufficient information to consider what adoption entails for them and for a child
Gain an understanding of the needs of children awaiting adoption
Learn how they could meet a child's needs
Decide whether adoption is right for them.
Please note that a different version of this trainer's guide exists for Northern Ireland, Scotland and Wales.
Who is this training pack for?
Social workers and trainers planning and delivering adoption preparation courses in England.
What you will find in the training pack
Nine modules are offered including:
What is adoption?
The children needing adoption
The adoption process
Children's development and attachment
The needs of children affected by neglect and abuse
Becoming a parent through adoption
Linking, matching and introductions
Telling, contact and social networking
Life as an adoptive family – learning to live together
The trainer's guide includes a DVD containing film clips and a CD-ROM containing a PowerPoint presentation and hand-outs.
A workbook for applicants is available separately.
Authors
Preparing to adopt was initially devised, and later revised, by a small working party of colleagues. These included Elaine Dibben (Adoption Development Consultant) and Nicky Probert (Trainer Consultant), both working at BAAF. The training pack was written up by Eileen Fursland, a professional freelance writer. She has written a number of training materials and books for BAAF and CoramBAAF, including a series of training programmes for foster carers, and books on social media and its impact on adoption and fostering.
Reviews
All our applicants find the workbook clearly written and thorough, and appreciate having so much information easily accessible in one handy manual.
Mary Francis, Medway Adoption Team
We find Preparing to adopt very useful and appropriate. The trainer's guide is easy to use and navigate. The feedback from applicants is generally very positive – it widens their thinking about adoption.
Terry Dunning, Co-ordinator – Preparation Groups, Norfolk County Council