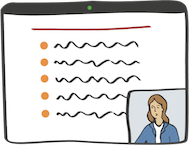 Wellbeing for Members - Exploring your strengths
FREE EVENT FOR MEMBERS ONLY
With our monthly 'Wellbeing for professionals' sessions we would like to offer a place for our members to reflect on and boost their personal wellbeing. They will take place on the first Wednesday of every month, from 12pm to 1pm.
This month's session will focus on 'Exploring your strengths' - our brain is more likely to focus on challenges, which is why we may benefit from additional tools to help us recognise and celebrate our own strengths. In this session for members, we will explore the Appreciative Self Coaching tool developed by Howard Glasser (founder of the Nurtured Heart Approach). 
This session is free to all members.
For social workers, reflection on this session may contribute to your continuing professional development (CPD).
Sorry, but this is fully booked and tickets can no longer be purchased.