Our highly-valued Adoption & Fostering Digest is a unique monthly UK-wide email briefing for everyone working in adoption, fostering, kinship and child welfare. It provides unique coverage of the latest developments in legislation, parliamentary activity, policy, consultations, research, statistics and online resources. It highlights the key points for each item covered and links to an online source for further information.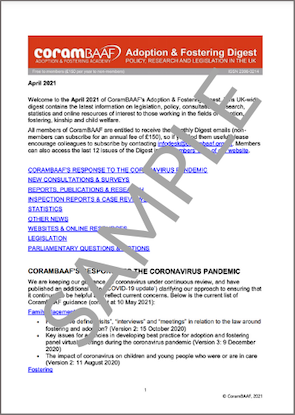 Members can access and download the past 12 month's Digests in PDF format.
Subscribe
Adoption & Fostering Digest is free to all members. If you are a member by virtue of your organisation's membership you will need to create a web account and you will begin receiving as part of your membership benefits. Check below to see if your organisation is in membership.
 
Non-members can subscribe for an annual fee of £150. Please contact our Information and Knowledge Services Managers at infodesk@corambaaf.org.uk or call 020 7520 7525 for more details about receiving the email or if you would like to make comments about this service.