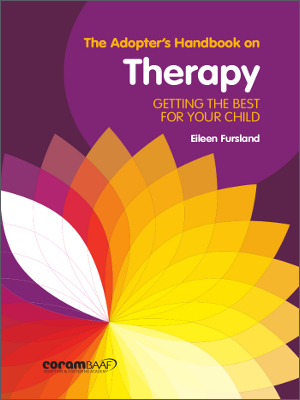 The adopter's handbook on therapy
£12.95
Adoption signals a new beginning and, for the child, the start of a journey to a brighter future with the support of a loving family. For many adopted children, however, putting the past behind them isn't always easy. The legacy of early experiences – loss, trauma, abuse – leaves many adopted children fragile, wary, angry and emotionally volatile.
How can children be supported to get to a calmer and happier place? And what can be done to help the adoptive parents who often bear the brunt when their children make their pain felt loud and clear?
Adoption support is available and so is therapeutic help. But how do you know what's best for your child? What therapies are available and how do they work? How do you go about finding a therapist and how do you know if they are competent?
The adopter's handbook on therapy will help. It offers clear and factual summaries of the different therapies and therapeutic parenting programmes that are available, as well as support groups and other resources.
Read our Editor's Exclusive
Every month we release a free chapter from one of our bestselling publications. For May, we are sharing the contents page, introduction and the fourth chapter from 'The adopter's handbook on therapy'. 
Who is this book for?
Adoptive parents looking for clear and practical information about the therapeutic support available to them and their child, and how they can access this.
What you will find in this book
The book covers:
adoption support, including the Adoption Support Fund and Child and Adolescent Mental Health Services (CAMHS)
an introduction to therapy and what it is
a comprehensive list of different types of therapies, including play therapy, filial therapy, therapeutic parenting approaches and nurturing attachments
finding a therapist who is right for your child, including possible drawbacks and difficulties, and contact information
personal accounts from adoptive parents and an adopted teenager
'I went to see a counsellor and that helped a lot…just someone who listens but doesn't judge you, where you can say what you like without worrying about offending anyone. Someone who is not involved and doesn't take sides…I also got a lot of support by meeting up with other adopted teenagers and realising that I wasn't on my own and this made me feel less different and more confident in just getting on with things.'
Author
Eileen Fursland is a freelance writer specialising in issues affecting children and young people. She has written several titles for CoramBAAF including Facing up to Facebook. She also designs and delivers training sessions to help foster carers, adopters and social workers to meet the challenges posed by social networking.
NOW AVAILABLE AS AN EBOOK!
This title is now available in digital-only format for immediate access. Purchases are held in your own personalised online library and accessed via your browser or through the app on your phone or tablet.
£12.95
Reviews
In the complex maze of adoption, this book provides a valuable starting point, both for adopters seeking to learn more about therapy and those who are actively beginning the process with their children. It will certainly help adoptive parents to navigate through some of the decisions, dilemmas and choices that can crop up.
Karen Triesman, clinical psychologist
This handbook is a valuable compilation of information, with useful insights for getting the best therapeutic adoption support...The author's enthusiasm for issues affecting children and young people is obvious throughout. It is an illuminating and excellent resource that will benefit not only adopters, but also therapists, social workers, children's guardians and teachers.
Bolanle Kayode, independent social worker - Seen and Heard