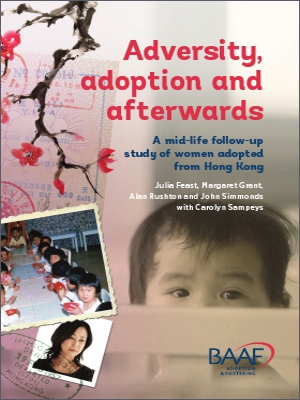 Adversity, adoption and afterwards
£14.95
This unique study explores the long-term outcomes for a group of girls, now women in middle age, adopted from orphanages in Hong Kong, by families in the UK. The study offers a rare opportunity to explore the impact of adverse early experience, modified by adoption in creating opportunities and risks, over 50 years.
The book presents the main findings of the study, combining an in-depth analysis of some of the key outcomes with a qualitative analysis of face-to-face interviews with the women. These interviews provide evocative and compelling stories of different aspects of their lives. The use of standardised measures has also allowed key comparisons to be made with a number of other influential studies, allowing comparisons with other adopted and non-adopted women raised in the UK.
Who is this book for?
This study will be of interest to a wide range of readers internationally, both academic and professional, and also to those interested in and affected by adoption.
What you will find in this book
A historical overview of the British Chinese Adoption Study
Growing up adopted
The adult hears
Health and well-being
Belonging, difference and well-being
Origins and access to information
Personal reflections on orphanage care, adoption experiences and messages for adopters
Key findings and implications for policy and practice
Authors
Julia Feast was the Policy, Research and Development Consultant for BAAF and then CoramBAAF, and an experienced social worker and researcher. She has a particular interest in the identity and information rights and needs of adopted people, post-care adults and donor-conceived people and has researched and published in these fields.
Margaret Grant was a Senior Researcher at BAAF during this study. She has worked on projects including testing reading skill interventions for children in foster care; the use of video in profiling children for family finding; and the experiences of unaccompanied asylum-seeking children and their foster carers.
Alan Rushton spent many years as a social worker, and for 25 years was the Director of the MSc programme in Mental Health Social Work at the Institute of Psychiatry, King's College London, where he continues as Visiting Professor, He has researched and published widely in the adoption and fostering fields.
John Simmonds is Director of Policy, Research and Development at CoramBAAF. Previously, he was head of the social work programmes at Goldsmiths College, University of London. He has published widely in the fields of adoption and fostering.
Carolyn Sampeys is a Community Paediatrician and Named Doctor for Adoption, Fostering and Looked After Children for Cardiff and Vale University Health Board. She acts as Medical Adviser in Adoption to Cardiff and the Vale of Glamorgan local authorities. She is Chair of the CoramBAAF UK Health Group Advisory Committee.
Reviews
A wonderfully riveting account of a highly unusual study from which all of us can learn a lot.
Professor Sir Michael Rutter